Your Online Leads Ecosystem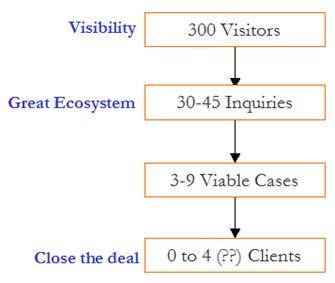 By comparison, Figure 8 shows the digital equivalents of your analog activities. It is worth noting at this point that while you are developing your Online Leads Ecosystem, your Analog Leads Ecosystem will continue to be critically important and will always be so.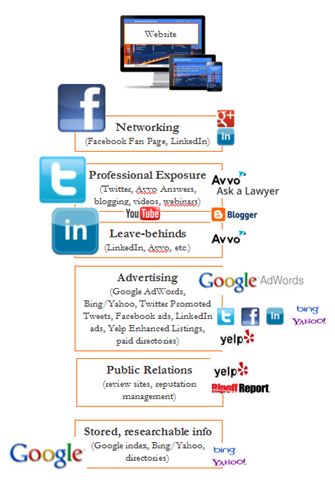 How Your Online Leads Ecosystem Helps Your Law Practice
Your optimal Online Leads Ecosystem (hereinafter, your "Ecosystem") will bring the traffic to one or more of your online properties, whether it's your website, YouTube channel, Facebook Fan Page, or something else.
Usually the people looking for legal help will begin their search at Google, but occasionally they may go to Yelp, Bing, Yahoo, or some other resource. Their point of entry into your Ecosystem will depend on which of your pages appears to Google to be most relevant to Google (or Yahoo/Bing). This may be your YouTube channel, your Facebook Fan Page, one of your blog posts, etc.
Your optimal Ecosystem will be visually inviting and rich in emotive, readable (and just as importantly, skimmable) content. This will cause people who come into your Ecosystem to stay there and ultimately to make contact with you, at least some of the time.
The platforms and pages of your Ecosystem will conspicuously invite people to make contact with you by phone, live chat, email, or your contact form.
And the last critical step, your most important role in the optimal functioning of your Ecosystem, is to jump on that lead and close that deal. In brief, here's what you get from a well-developed Online Leads Ecosystem:



Lots of Traffic +



Great Web Presence = Leads.

You Close the Lead = Clients
Most of the remainder of this book will be a more detailed breakdown of each of these elements, but briefly, they are as follows:
"Lots of Traffic" means that there are a good number of people actively searching for legal help in your practice areas and community and that these people are visiting your website. What is a "good number" will vary geographically and by practice area, and the goal naturally is to get as much of this traffic to your website as possible.