Women Seafarers: Past, Present and Prospects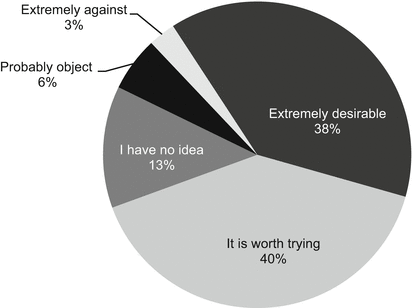 Fig. 1
SMU enrolment for nautical studies by year of admission by gender (2000–2013)
The SMU has officially declared that the aims of the WSP are to educate and train women seafarers for international fleets, and to encourage women to participate in this traditionally male-dominated sector of the maritime industry. In Zhao's interview with the then senior management of the School of Nautical Studies at SMU in 2001, while this objective was clearly noted, there was also a demonstration of a desire for international prestige, as he said:



I must mention another reason for us to decide to recruit women cadets. Some two or three years ago, we attended maritime events organised by the IMO in Japan and in the Philippines. In both, they showcased their women cadets. They look really smart and beautiful, really outstanding. We were feeling bad. Our country is a big country and we have the socialist tradition to have women working in the traditionally male-dominated industries. But, now, we are lagging behind. We must catch up so that we can also showcase our women seafarers at future IMO events….. We discussed these thoughts with the leaders at Shanghai Municipality and got their support to go ahead.
In addition, some cultural consideration was actually also behind the thought for the recruitment of women seafarers in Shanghai, as Zhang found in his field research in 2013 in Shanghai. Back in the 1990s, with the dramatic development of the Chinese maritime industry, including port facilities, a rapidly increasing number of vessels called at Chinese ports. This imposed increasing pressure on the Vessel Traffic Service (VTS) in many ports. The VTS in many ports were short of telephone operators to coordinate the arrival and departure of international ships. "Many people considered that women would be most suitable to perform the duties in the call centre of VTS. Compared with the stiff and harsh orders from a man, a female voice may inspire different feelings for seafarers, and seafarers are more likely to follow the instructions from the VTS call centre" as recalled by a senior lecturer at SMU in the interview. So, the feminine quality or women's 'soft' voice was also used to help rationalise the proposal to recruit women as seafarers. Given that VTS operators need to have the background of nautical studies, in 2000, the School of Nautical Studies at SMU recruited the first group of female students and the recruitment has continued for 14 years since then.
It has been hoped that the WSP in Shanghai would inspire other MET institutions in other parts of the country to follow suit, hence more women would be encouraged to join the industry as seafarers. Unfortunately, the innovative actions initiated in Shanghai have not been modelled after by any other MET institutions in China. The SMU remains the only university that keeps its door open to women who aspire to sail at sea.
5.2

Employment of Female Nautical Graduates

As of January 2014, 255 women students (out of the 356 recruits) have graduated under the auspices of the WSP at SMU. This indicates a completion rate of 72 %. Indeed, a great expectation has been placed on these female students. Unfortunately, the reality is very different. Very few female graduates from the programme have been engaged in seafaring professions. The most recent head count of women seafarers in navigation is virtually a handful, at six (to be discussed later in the paper).

Why? A range of problems are to be addressed. First of all, it was the resistance of the ship owners and shipping managers that has been identified as the greatest problem for the female graduates to find seafaring posts. Most of the female students have reported difficulties in finding jobs with shipping companies after graduation from the SMU, in spite of the strong support from the Nautical School at the SMU (this will be further discussed later in the paper). Besides, the unexpected competition in job hunting was also a problem. This problem has not only prevented these women from finding seafaring jobs, but also blocked their way in finding the posts they thought they had been trained for. Many of the female students have indeed applied for posts as VTS operators. However, the VTS operators are government official positions. Only those who pass the national civil service examination can apply for these positions. In China, the admission to government civil servant posts is extremely competitive. According to the report by the SMU's Employment Guidance Centre, only two female students have landed posts as VTS operators in Zhenjiang port.

Furthermore, the low rate of completion of training is also part of the problem. Among the total 255 graduates, only 32 students have completed all the training requirements, passed the final exams and obtained their certificates as qualified seafarers. The number of women who have regularly worked on board ships is actually no more than six, as noted above. Most of the female graduates recruited by the WSP have actually found land-based jobs in shipping companies, government agencies, port facilities and so on. Figure

2

indicates the distribution of employment directions of female nautical graduates from the SMU since 2000.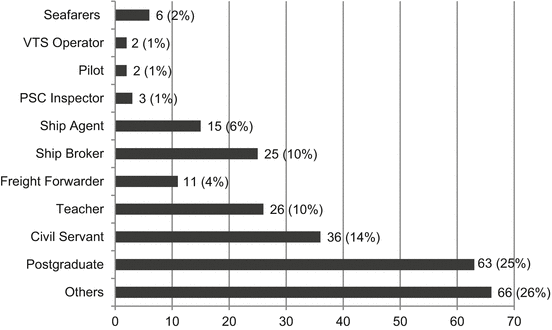 Fig. 2
Distribution of employment sectors of female nautical graduates (2000–2013)
The above figures show that only a handful of the female graduates are engaged in seafaring. Many, however, have found posts in various sectors of the maritime industry, as VTS operators, pilots, PSC inspectors, ship agents, ship brokers, freight forwarders and so on. A closer examination would find, even for the six women seafarers, that their employment conditions are different from the conditions for 'standard' seafarers, that is, male seafarers. First, these women seafarers are all employees in the SMU, rather than in a trading shipping company. Although they have registered as qualified seafarers, they all have another status as lecturers in the Merchant Shipping School. They have been working on board regularly, but that is just to maintain and renew their certificates, the same as many male lecturers in the School. Secondly, unlike most seafarers who work on board merchant ships, these women seafarers often only work on training ships. Their work and living environment, the relationships of the crew members and so on, are different from that aboard merchant ships. Thirdly, similar to their predecessors, the 'heroines' in the 1960s/1970s, some of them have been 'drafted' to perform duties primarily for national prestige. For instance, two of these women have been placed on board of the well-known scientific research ship '
Xue Long
' (Snow Dragon) and navigated through the Antarctic and Arctic. These expeditions make them very famous in China and they receive honourable distinctions.
In spite of all these problems, recruiting female nautical students has become one unique feature of the SMU, bringing it honour, respect and good reputation. This is well-known in the Chinese maritime industry, and the SMU has received both applause and criticism. Many people consider that the SMU has made a historic breakthrough by regularly recruiting female nautical students for so many years. The general perception is that the WSP not only contributes to the improvement of gender equality, but also helps more women to participate in the seafaring profession (Xie
2013
). On the other hand, the SMU has also been criticized as having encouraged female students to study a course which does not offer a bright employment prospect. As an instructor of SMU explained in the interview in the summer of 2013:



We have to admit that those female nautical graduates do not have good employment prospects. Therefore, the majority of them have to participate in professions which are not relevant to maritime. Accordingly, the nautical knowledge they have studied would become totally useless in their daily work. I always tell my students to learn not only nautical knowledge, but also as much other knowledge as possible. Otherwise, they do not have competitiveness to find a job on land. Therefore, we have received various criticism and complaints, and we have also been suggested to cancel the WSP programme. (Interview WSF01-SMU 2013)
This interview echoes almost the same words in Zhao's interview, conducted with a number of senior lecturers in the same School at the start of the WSP at SMU, 14 years ago. The Head of School shared his concerns about the prospects of his female students' future employment as he said:



This is our first time to train women as deck officers, on a trial basis. But, we must be responsible for these girls. We must make sure that what they learn from us will be useful when looking for jobs in the labour market after graduation. So, we have tailor-made their curriculum, and they are required to take double courses. This means, while they register with us to do nautical studies, they also need to take a lot of other courses, such as business management, finance and so on. This is to guarantee that these girls would be able to find jobs in another sector, if they can't find ships to sail. We are fully aware that shipping companies may not welcome women aboard. (Interview WSF02-SMU 2013)
This is disappointing, as it clearly indicates a serious lack of progress regarding women's participation in seafaring, if not in shipping as a whole. The situation remains largely the same today as it was 14 years ago.
5.3

Motivations to Become Seafarers

Why have these young women decided to join the seafarers training? An investigation was conducted among 70 female nautical students of the SMU in 2013, trying to find the answer. According to this study, these female students have reported several main reasons for them to choose to join the training. The expectation for higher income has been listed at the top of their motivations. In China, compared with many jobs on land, working at sea usually offers good pay, although Chinese seafarers' wages are amongst the lowest when compared internationally (Alderton et al.

2004

). Secondly, there is fierce competition in the Chinese college entrance examination, in particular for popular majors such as IT, finance, investment management and business studies. By contrast, nautical studies are an unusual speciality, and there are not so many students competing for entrance. More importantly, seafaring has long lost its popularity with young people in coastal cities and provinces since the mid-1990s. Maritime study therefore has much less competition, hence it is more attractive to some applicants, especially those from rural areas. Thirdly, the tuition fees for nautical studies are much lower due to the subsidies provided by the government, as an incentive to attract more applicants. The seafaring training course is therefore particularly preferable for many students from poor families in inland rural provinces. It is worth noting that two other motivations, 'free world travel' and 'opportunities to practise English' are also reported as important factors in attracting for these young women. Figure

3

presents the identified major motivations when these female students decided to choose the course of nautical studies.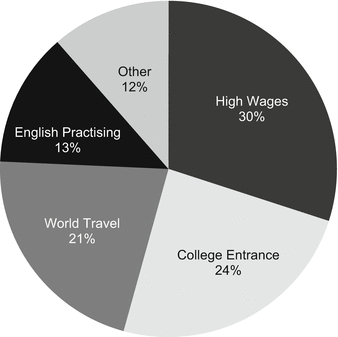 Fig. 3
Major reasons for choosing nautical studies among female students (2013)
Caution must be taken when interpreting the data here. The survey was conducted amongst the young women students who did not actually have experiences of working at sea. So, the reported motivations such as 'higher wages', and 'free travel (to see the world)', are based more on perception or even imagination, rather than real knowledge about the sea.
5.4

Attitudes Towards Seafaring as an Occupation

The attitudes towards seafaring as an occupation also vary among these female students. Surprisingly, the above-mentioned investigation also indicates that there is a high proportion of female students holding positive attitudes towards seafaring as a profession. Figure

4