The Enforcement of Laws and the Collection, Preservation, and Interpretation of Evidence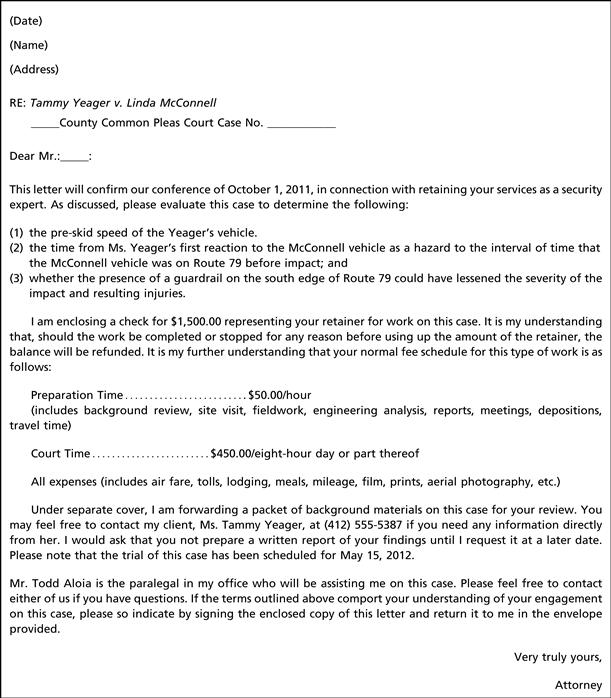 6
The Enforcement of Laws and the Collection, Preservation, and Interpretation of Evidence
Chapter outline
Introduction: Private Security's Role in Enforcing the Law
Private security is an indispensable cog in the American machinery of justice. Previous commentary outlines the Herculean contributions made by the industry in the protection of social and economic order. Even private security's harshest, most strident critics realize that without the services of private security, a gaping, colossal protection vacuum would exist in the distribution of justice, the protection of assets and facilities, and related services. Public policing alone simply cannot fend off the escalating criminality or solely assure the integrity of community and governmental infrastructures. It is common knowledge that the security industry performs numerous functions, from crowd control to physical perimeter protection in public and private installations, and deterrent and preventive activities regarding shoplifting and other corporate crime. But precisely which laws, statutes, or specific violations cover these sorts of activities? Does it make imminent sense that private security operatives have training and foundational knowledge in the law of crimes as well as the underlying proof requirements? And if the industry is to make a meaningful contribution in the apprehension and subsequent prosecution of criminal behavior, must its agents know and understand the evidentiary demands for a successful prosecution? Surely any professional security force will need to comprehend the definitions of criminal behavior and the evidentiary proof that must accompany any attempt to successfully conclude a criminal investigation and prosecution. These are the chief aims of the chapter.
Defining Criminal Liability
Before private security operatives can intelligently detect or enforce criminal behavior, they must master the essential elements of the alleged criminal behavior. More particularly, the industry must focus on the crimes more likely encountered by its field personnel.
Every crime consists of two basic elements:
Taking these elements into consideration, guilt under nearly all criminal offenses calls for proof of both the act itself and the mind that triggers, intends, or prompts the act. In the mental faculty requirement, the actor must do more than merely act, but contemplate upon the act before its commission and present some sort of mental intentionality. One without the other is bound to lead to failure in the American conception of criminal culpability.
In some intellectual circles there is a third element—namely, causation, which demands proof that the act and the mind together, working in consort, lead to a particular consequence. While not necessarily central to every criminal advocacy, it is wise to consider the question of whether a criminal's mind prompted a particular act that in turn caused a particular harm or injury. This is a thumbnail sketch of the criminal definition.
The Criminal Act (Actus Reus)
Not unexpectedly, criminal liability cannot attach without a deed, an act, an offense, or an omission of specifically enumerated conduct. Crimes are not inventions or fantasies but real human activity. Merely thinking about crimes, with rare exceptions, is not criminally punishable. Thoughts, no matter how bizarre or perverted, are not punishable unless put into effect. Thus, in order to be found guilty of theft, an individual has to take overt steps toward the unlawful taking of another's property. He or she may think obsessively about the desire to be in possession of some object, but until some overt act or course of conduct is chosen and put into effect, there is no actus reus.1 Hence, every criminal construction insists on an act of some sort.
A criminal act must be a voluntary act. The law does not hold accountable those individuals who are mentally incapacitated or operating against their will, by either duress or coercion, or suffering from a related or corollary disease or mental defect that substantially impacts the mental faculty.2 The American Law Institute's Model Penal Code, in its proposed 1962 draft, defines the nature of a voluntary act for criminal liability purposes:
Criminal liability does not attach unless the prosecution can demonstrate an act that is voluntary and not the result of unintentional, accidental, or nonvolitional circumstances. Acts by omission—that is, a failure to act when the law so dictates, such as the case of a parent who neglects his child or fails to save the child when in peril—are also within the definition of actus reus.4 In this sense, acts fall into two categories: commission and omission.
An incident report form, like Figure 6.1,5 aids the security investigator in determining the nature of the act.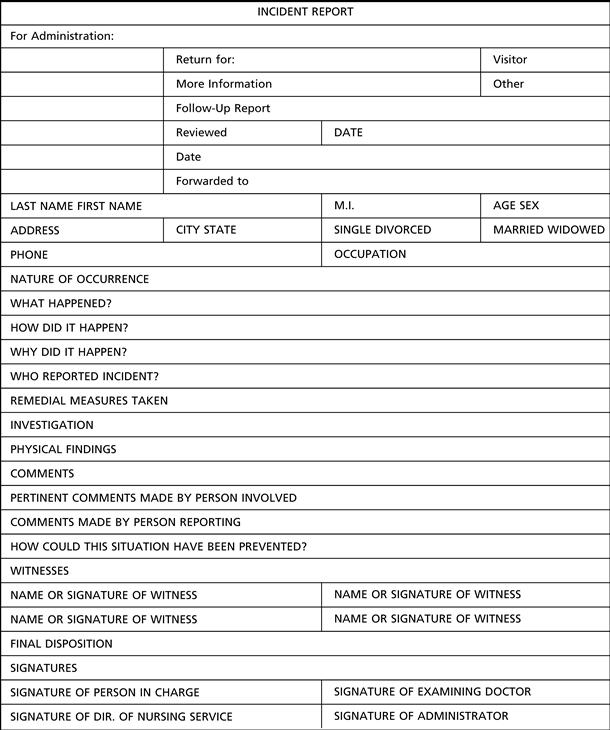 Figure 6.1 Incident Report.
The Criminal Mind (Mens Rea)
Determining the state of one's mind, the mens rea, is a much more complicated exercise than the proof of a criminal act. It has long been a major tenet of American jurisprudence that persons not in control of their mind or fully functional in mental state are less likely to be criminally responsible. Subjectively or objectively appraising what is in a person's mind can be gleaned from the facts themselves, the corpus delicti, the statements and comments of the actor by oral or written form, as well as psychological and psychiatric evidence. All of these conclusions must be linked to the crime in question. While most scholars and academics concede that there is such a thing as mens rea, it is, nevertheless, very subjective and difficult to prove.6 That a defendant may intend the general consequences of a certain action is clear, but how intensely the person actually desires to cause harm and the actual injury level the individual intends is harder to quantify.
Consider the various descriptive adjectives and adverbs that are utilized to describe a person's state of mind:
Admittedly, these terms can never fully describe the actor's mind, but at best they imply the conduct's level of intentionality. Mens rea codifications attempt to categorize malefactors and their respective mental states, although this is an imperfect exercise.
Diverse descriptive states of culpability have been encompassed in the Model Penal Code. Some portions are reproduced as follows:
Classification of Criminal Offenses and Related Penalties
Common law and statutory guidelines also characterize criminal behavior into various classifications or types. Those classifications generally include the following:
The security industry's concern will be the detection and apprehension of misdemeanants and felons whose crimes constitute the basic menu of criminal charges including assault, battery, theft and related property offenses, sexual offenses, intimidation and harassment, and white-collar crime including forgery, credit card fraud, and the like. Treason and other infamous crimes emerge in cases of international terrorism and homeland security, and given the rising influence of private sector justice in the global war on terror, they should give rise to more involvement. The entire airspace industry is dependent on personnel not only trained in security issues but also the criminal law issues that surround breaches of security at airport facilities. Shoplifting and retail theft may be designated a "summary" offense. Summary offenses generally consist of public order violations, including failure to pay parking tickets, creating a temporary obstruction in a public place, public intoxication, or other offenses of a less serious nature that are rarely punishable by a term of imprisonment14 but are regularly witnessed by the security professional, like lower-level shoplifting.
At common law, the designation of an act as a felony constituted an extremely serious offense. Penal and correctional response to felony behavior included the death penalty and forfeiture of all lands, goods, and other personal property. Generally, a felony was any capital offense, namely, murder, manslaughter, rape, sodomy, robbery, larceny, arson, burglary, mayhem, and other violent conduct.15 An alternative way of defining a felony was the severity of its corresponding punishment. Felony was defined "to mean offenses for which the offender, on conviction, may be punished by death or imprisonment in the state prison or penitentiary; but in the absence of such statute the word is used to designate such serious offenses as were formally punishable by death, or by forfeiture of the lands or goods of the offender."16 In other words, a crime could be a felony or a misdemeanor not because of its severity or subsequent impact but because of the term of incarceration. Modern criminal analysis shows confused and perplexing legislative decision making on the nature of a felony and a misdemeanor. The President's Commission on Law Enforcement and Administration of Justice, in its Task Force Report on the Courts,17 relates:
A study of the Oregon Penal Code revealed that 1,413 criminal statutes contained a total of 466 different types and lengths of sentences. The absence of legislative attention to the whole range of penalties may also be demonstrated by comparisons between certain offenses. A recent study of the Colorado Statutes disclosed that a person convicted of a first degree murder must serve ten (10) years before becoming eligible for parole, while a person convicted of a lesser degree of the same offense must serve at least fifteen (15) years; destruction of a house with fire is punishable by a maximum twenty (20) years imprisonment, but destruction of a house with explosives carries a ten (10) year maximum. In California, an offender who breaks into an automobile to steal the contents of the glove compartment is subject to a fifteen (15) year maximum sentence but if he stole the car itself, he would face a maximum ten (10) year term.
Although each offense must be defined in a separate statutory provision, the number and variety of sentencing distinctions which result when legislatures prescribe a separate penalty for each offense are among the main causes of the anarchy in sentencing that is so widely deplored.18
In defining the term "misdemeanor," legislatures and jurists use a process of elimination holding that an offense not deemed a felony is, deductively, a misdemeanor. Usually misdemeanors are offenses punishable by less than a year's incarceration. The popular perception that misdemeanors are not serious offenses may be a faulty impression. Criminal codes surprise even the most seasoned justice practitioner, who frequently finds little logic in an offense's definition, resulting classification, and corresponding punishment. For examples of this confusion, review selected state code provisions on "sexual offenses."19
Specific Types of Crimes and Offenses
Offenses against the Person
Offenses against the Habitation and Other Buildings
The security industry is entrusted with the protection of homes, business and commercial buildings, and residential settings. Whether by direct patrol or technological surveillance, the industry is increasingly controlling the safety of private residences and business settings.56
Arson
Industrial and business concerns have a grave interest in the protection of their assets and real property from arsonists.57 Around-the-clock security systems, surveillance systems, and electronic technology have done much to aid private enterprise in the protection of its interests.58
Arson, as defined in the Model Penal Code, includes the following provisions:
Judicial interpretation of arson statutes has been primarily concerned with either the definition of a "structure" or in the proof an actual burning or physical fire damage. Structure has been broadly defined as any physical plant, warehouse, or accommodation that permits the carrying on of business or the temporary residents of persons, a domicile, and even ships, trailers, sleeping cars, airplanes, and other movable vehicles or structures.60 Any burning, substantial smoke discoloration and damage, charring, the existence of alligator burn patterns, destruction and damage caused as the results of explosives, detonation devices, and ruination by substantial heat meets the arson criteria. Total destruction or annihilation is not required.61
Most jurisdictions have also adopted related offenses: