SUBSTANTIVE GROUNDS FOR JUDICIAL REVIEW

14
Substantive grounds for judicial review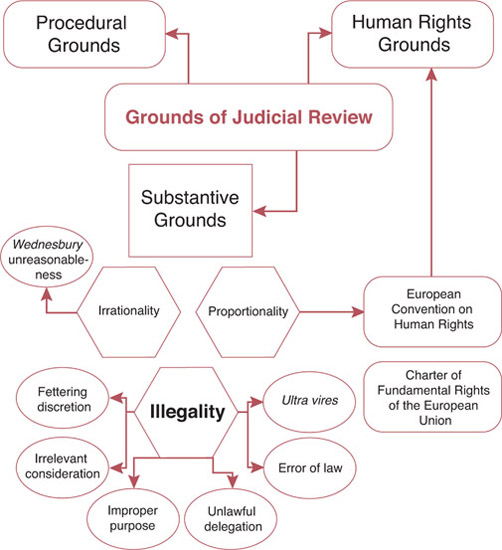 Narrow or simple

ultra vires
14.2.1 A body will act in this way when it acts outside of the powers conferred on it: in other words it lacks the necessary jurisdiction.
14.2.2 Lord Diplock in the GCHQ Case defined this as where 'the decision maker must understand correctly the law that regulates his decision-making power and give effect to it'.
14.2.3 Examples of bodies acting in such a way include:



•

Attorney-General v Fulham Corporation

(1921) – in this case statute granted local authorities the power to provide a washhouse for local people. The Corporation interpreted this as granting it the power to provide a laundry service. According to the court this was unlawful because a washhouse was where someone did their own laundry.


•

Bromley London Borough Council v Greater London Council

(1983) – the House of Lords held that an obligation on the GLC to provide an 'efficient and economic' public transport service did not give the Council the power to subsidise the London Underground for social reasons.


•

R v Lord Chancellor, ex parte Witham

(1998) – the Lord Chancellor, under the Supreme Court Act 1981, removed the exemption for payment of court fees for litigants receiving income support. The court found that the Act did not expressly provide for the removal of access to justice and hence the Lord Chancellor had acted

ultra vires

.
14.2.4 In contrast, in Akumah v Hackney London Borough Council (2005) the House of Lords held that the Council had statutory power to manage, regulate and control 'dwelling houses' and this should be interpreted widely to include regulation of car parking. Consequently the Council's action to clamp cars in a car park attached to a block of flats was held intra vires.
14.2.5 Illegality as a failure to act is where a body has a statutory duty to act and fails to do so. Whether the duty to act is enforceable by the courts will depend on the wording of the statute: if the obligation to act is clear and precise the court will hold it enforceable. Conversely, if the duty is not specific the court will not hold it enforceable. If, under statute, the Secretary of State has default powers to intervene to ensure the duty to act takes place, the courts will generally not intervene: R v Secretary of State for the Environment, ex parte Norwich City Council (1982).
14.3.1 The various grounds as types of illegality as considered below are concerned with the way in which bodies exercise their discretion; regardless of how wide a body's discretion may be, the court can examine whether it has been exercised ultra vires: for example, in relation to an improper purpose: Padfield v Minister for Agriculture, Fisheries and Food (1968).
14.4.1 This is where the body uses its powers to achieve a purpose that it is not empowered to do: see Padfield v Minister for Agriculture, Fisheries and Food (1968).
14.4.2 Examples of the application of this ground include:
14.5.1 An error of law can take several forms, including incorrect interpretation, whether discretion has been properly exercised and whether irrelevant considerations have been considered or relevant ones ignored.
14.5.2 Generally all errors of law are reviewable: Anisminic Ltd v Foreign Compensation Commission (1969) and R v Lord President of the Privy Council, ex parte Page (1992).
14.5.3 Examples of bodies acting in such a way include:



•

Perilly v Tower Hamlets Borough Council

(1973) – the Council had misinterpreted the law so instead of granting stall licences only in order of application, it could grant a licence to the son of a deceased licence holder.


•

R v Secretary of State for the Home Department, ex parte Venables

(1997) – the Home Secretary was held to have misdirected himself as to the law when increasing the tariff for two young murderers on the basis they should be treated as adults.
14.5.4 Errors of fact are not usually reviewable unless they are central to the decision that has been made, for example: if the decision is based on facts for which there is no evidence (Ashbridge Investments v Minister of Housing and Local Government (1965)); and where facts are proved incorrect or have been ignored or misunderstood (R v Criminal Injuries Compensation Board, ex parte A (1992)).
14.5.5 Where the decision involves a person's individual rights, the courts are more likely to review any error of fact. For example, in R v Secretary of State for the Home Department, ex parte Khawaja (1984) the court held that whether the applicant was indeed an illegal immigrant had to be determined as fact before the power to detain or expel could be exercised.