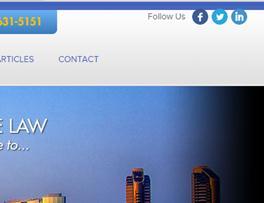 Plus, a large number of "Followers" allows you to actively shape your "brand" (or re-shape it) and to respond to what people are saying about your law firm.
It's helpful. "Followers" sometimes ask questions and your thoughtful responses will be remembered.
Through "Followers" you can increase awareness of your services in the social sphere, which will help you compete with other law firms.
Having "Followers" makes your website more dynamic and gives your law firm personality, helping your website's visitors feel like they're getting to know you and assuring visitors that there is an active law firm behind the comparatively static website.
When people "Like" your site, it can increase the inquiry rate, possibly by as much as 25%.