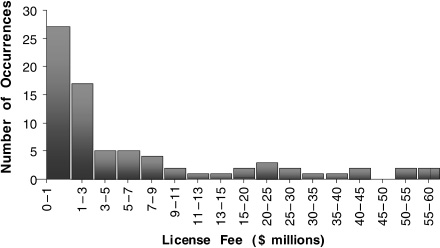 Chapter 4


Royalty Rate Guidelines



Industry guidelines focus on the general rates that others are charging, for intellectual property (IP) licensed within a specific industry. Investment risks, net profits, market size, growth potential, and complementary asset investment requirements are assumed as being reflected, but are absent from direct consideration. The use of industry guidelines places total reliance on the ability of others to correctly consider, and interpret, the many factors affecting royalties.




Examples of general guidelines are presented in Exhibit 4.1. They provide interesting information, but do not help determine a specific royalty rate, for a specific IP, because the ranges presented are rather broad. These guidelines can, however, provide an order of magnitude.





Source: 1998, Dr. Michael Gross, CASRIP Newsletter (V413), Actual Royalty Rates in Patent, Know-How and Computer Program License Agreements. This article discusses the "remuneration guidelines" of the German Law Relating to Inventions Made by Employees.



| | | |
| --- | --- | --- |
| Industry | Royalty Rate | |
| Electronics | 0.5–5% | |
| Machinery | 0.33–10% | |
| Chemical | 2–5% | |
| Pharmaceutical | 2–10% | |
The high-end royalty rates associated with pharmaceuticals is due to the high profit margins many medical therapies can command.
The following guidance is from Patent to Profit (www.frompatenttoprofit.com), a company focused on helping inventors turn their ideas into commercial products, generating royalty income.
| | |
| --- | --- |
| Toys | 5% to 10% |
| Software | 15% to 20% |
| Tools | 3% to 7% |
| Automotive | 2% to 5% |
| Baby Goods | 5% to 7% |
| Michael Jordan | 17.5% |
In Germany, there exists the "Law Relating to Inventions Made by Employees." This law determines that inventions made by employees belong to them. Only by a special act, and in conjunction with a special remuneration, can they become the property of the employer. The most usual method to calculate the inventor's remuneration is the so-called "license analogy." The inventor receives a certain percentage, based on the net sales made by the employer, of a reasonable royalty. Added to the Law Relating to Inventions Made by Employees are renumeration guidelines, which provide examples of reasonable royalties1:
| | |
| --- | --- |
| Electronics | 0.5–5% |
| Machinery | 0.33–10% |
| Chemical | 2–5% |
| Pharmaceutical | 2–10% |
Analysis Group, a national economic consulting firm, studied 2,279 license deals, for fifteen different industries (based on data from RoyaltySource.com). The average royalty rate, for the industries studied, ranged from three to nine percent, averaging five percent. Looking at the graph in Exhibit 4.2