PROCESS, STANDING AND REMEDIES IN JUDICIAL REVIEW

13
Process, standing and remedies in judicial review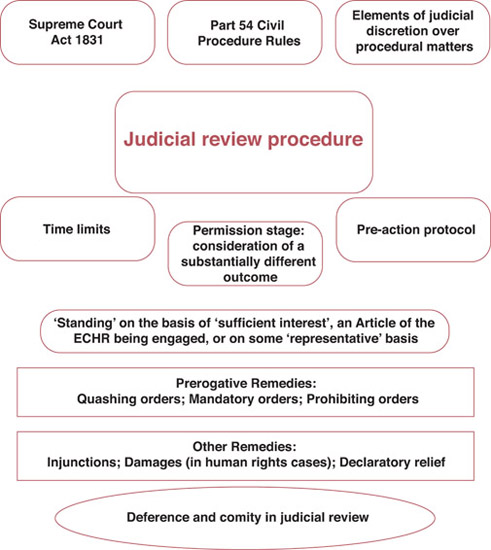 13.2.1 Parties as the claimants seeking judicial review are expected engage with the pre-action protocol, prior to filing their claim for judicial review.
13.2.2 This is not a strict requirement, however. For one thing, it may be too late for the claimant to follow the pre-action protocol and still comply with the expected time limit to bring their claim (see 13.3).
13.2.3 The pre-action protocol is in essence the supply of a draft claim form to the defendant, along with the factual details underpinning the claim, as the claimant understands them.
13.2.4 This gives the defendant an opportunity to resolve the issue with the claimant without the need for the claim to even reach the High Court. It also allows the defendant to clarify any pertinent factual issues, or dispute them, with regard to the claimant's version of events.
13.4.1 Section 31 of the Supreme Court Act 1981 provides that 'the court shall not grant leave… unless it considers that the applicant has a sufficient interest in the matter to which the application relates'. Sufficient interest is also known as locus standi or standing.
13.4.2 Sufficient interest will be assessed by the court at both the leave stage and at the substantive hearing: R v Inland Revenue Commissioners, ex parte National Federation of Self-employed and Small Businesses (1982).
13.4.3 The need for sufficient interest prevents what Lord Scarman described in the above case as 'abuse by busybodies, cranks and other mischief makers'. It therefore ensures cases are genuine and avoids unnecessary interference with administrative decisions and processes.
13.4.4 Applicants for judicial review are generally of four types:



•

individuals whose personal rights and interests are affected by a decision;


•

individuals concerned that a decision has affected the interests of society as a whole;


•

pressure or interest groups who believe a decision affects the rights or interests of their members or society as a whole; and


•

individuals claiming for judicial review for a breach of human rights under the Human Rights Act 1998.