Private Actions and Personal Liability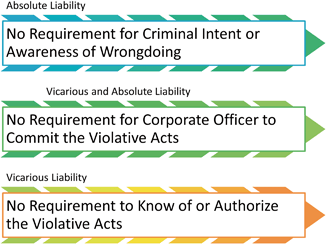 Fig. 7.1
Common state law claims in foodborne illness litigation
Causation and Res Ipsa Loauitor
Causation provides a difficult hurdle for plaintiffs. Often plaintiffs will rely on FDA and CDC investigations into outbreaks, which typically will identify the responsible firm. Then experts are called to provide testimony aimed at attributing negligence of the firm as the cause of the outbreak. To prove negligence, plaintiffs must chow causation, which means the defendant's negligence is more likely than not the cause of their injury (Polin
1998
).
1
How causation is demonstrated depends on State law. Typically a three prong approached is used under the theory of
res ipsa loquitor
(
see
Fig.
7.3
)
.
This doctrine looks at three points:
1.
The incident was caused by "an agency or instrumentality under the exclusive control" of the defendant.
2.
The incident must be the type that ordinarily does not happen unless someone is negligent.
3.
The incident cannot be "due to any voluntary act or contributory fault of the plaintiff." (
Miller Meat Co.
)
2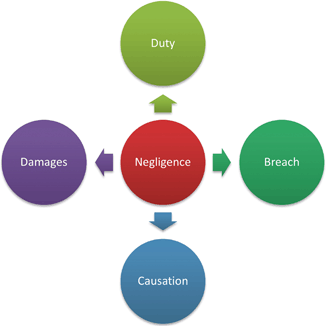 Fig. 7.2
Elements of a
negligence
claim
In
Ford
the court reviewed a negligence action against Miller Meat Company after the plaintiff broke a tooth on a bone fragment in a ground beef product produced by Miller Meat. The court using the three-prong test found that the plaintiff failed to show negligence. In particular the test noted the size of the bone fragment, which was around one-eighth of an inch, was so small that "no one could reasonably expect the vendor to remove [it] from ground beef" (
Miller Meat Co.
).
3
The decision in
Ford
is not only instructive on the elements of causation, but also signals to potential plaintiffs of how fact dependent negligence cases can be.
One concern with causation is whether the foodborne illness is attributable to the defendant's products and not another source. In some cases bacteria responsible for foodborne illnesses can remain dormant for two or more weeks before causing any symptoms. This was the case when a plaintiff sued Burger King after allegedly becoming ill eating a Whopper (Hairston v. Burger King Corp.).
4
The court dismissed the case largely on expert witness who testified that the plaintiff's illness could have been caused by something eaten an hour to a week before feeling ill (Hairston v. Burger King Corp.)
5
. The court reasoned:



The trial court did not rule that Hairston did not have food poisoning, but found that she failed to carry her burden of proving that her condition was caused by consuming the Whopper. Kamberov testified that the cause of the food poisoning could have been anything Hairston ate from one hour to one week before she started having problems. Additionally, there was no evidence that any of the other 800 people who consumed a Whopper that day developed food poisoning. Hairston's testimony merely established she was having severe gastric problems and that she had eaten a Whopper. Based on the entirety of the evidence, the trial court was not manifestly erroneous in determining that eating the Whopper did not cause Hairston's gastric distress.
Issues also arise when plaintiff's symptoms are chronic rather than acute. This was the case for a couple who sued a local restaurant, the Log Cabin a/k/a "Betty's," after becoming ill immediately following their dinner at the seafood buffet (Burnett v. Essex Insurance Company).
6
In addition to their acute reaction to the food one plaintiff continued to complain of chronic abdominal pain (Burnett v. Essex Insurance Company).
7
The court dismissed the case finding that their physician could not rule out other causes of the illness including treatment for similar symptoms prior to eating at Betty's. The court held:



Dr. Ghanta testified that if the Plaintiffs' history were correct, then he would relate their symptoms to the food consumed at the restaurant. However, Dr. Ghanta could not identify the source of the infection, and he could not rule out as other possible causes the local drinking water or from elsewhere in the community. Although a plaintiff need not scientifically identify the infection-producing organism to recover in a food poisoning case, he must still prove causation by a preponderance of the evidence. When the lack of more specific evidence of causation is considered in light of the Burnetts' medical histories, we find no error in the trial court's conclusion that they did not meet this burden. The evidence simply does not preponderate in their favor, given their propensity to gastric disorders and Dr. Ghanta's reliance solely on their accounts to formulate his opinion of causation.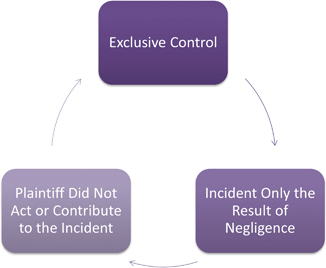 Fig. 7.3
Res Ipsa Loquitur
elements
There are numerous disadvantages to foodborne illness litigation. This often results in only the most severe instance of illness or death or egregious acts being brought to court. In other words this type of case is better suited for large outbreaks where class action status may be available. Litigation can be expensive and take several years to reach a resolution. The compensation, typically from the insurance companies, largely covers legal fees and court costs. Given these restraints the individual suits for foodborne illness are not brought to court.
FSMA and Negligence
The Food Safety Modernization Act may slightly ease a plaintiff's burden in negligence cases. The issue of causation will remain troublesome and difficult to prove. It may be aided by FSMA, which requires extensive record keeping that could prove to be a fertile ground for discovery. FSMA also requires new preventative measures and controls to be put in place. For example, the Preventative Controls rule discussed in Chapters
3
and
5
will require a food safety plan that outlines hazards and control of those hazards. This could be a roadmap for plaintiff's attorneys searching for the elements of a negligence claim. Other rules pose similar risks. Smaller provisions of the rule may also be magnified in negligence claims. The use of high risk facility designation or the use of mandatory recall authority could aid in both inferring causation and proving failure to follow preventative controls. FSMA by no means requires perfection, but the level of documentation will be both, a rich source for finding the elements of a negligence claim and also a basis to infer the lack of documentation indicating improper hazard control and thus likely causation of the incident. All of this remains to be tested in the court.
7.2.2

Labeling Litigation