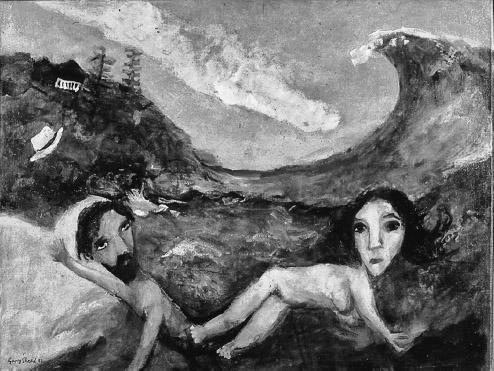 Polarity

Chapters 6 and 7 showed how, in his writing about the novel and in Kangaroo, Lawrence rejected from the depths of his own literary method both positivism and romanticism. Lawrence rejected the old beliefs, including in a mechanistic or procedural approach to judgment, which had come to dominate legal models during the nineteenth century. The global codification movement, the Langdellian revolution in legal education, and the common law's increasingly formalised approach to precedent present just three instances of this trend.
At the same time and under that same literary pressure, Lawrence rejected the 'reactionary modernism' that turned its back on the modern world and sought refuge in the language of unity, instinct and insight that aspired to reverse our disenchantment and return us to a world of rule-less judgment and transcendent justice. Romanticism is alchemy – a grammar of 'and' that by rhetorical force seeks to meld different perspectives or contradictory goals in the crucible of some utopian unity. 'And is God':3 the point de capiton or quilting-point4 that binds together wildly disparate elements into an ethical unity, and makes the lamb and the lion lie down together. We see this in Berkowitz, who consistently refers to the 'grounds and reasons' of law, arguing that positivism can no longer find either once it abandons religion or nature.5 The failure of science as a ground is therefore necessarily the failure of reason-giving. But in fact the two are different and our responses may be likewise. A similar trope can be seen in relation to Berkowitz's references to authority. The steady references to authority, justice or insight as 'natural and traditional,' 'traditional and religious' and so on, mix together social practice, history, politics and ethics as sources of justification.6 Each word shores up and expands the implications of the argument so that, for example, a historical observation as to 'traditional' nature of claims to kingly authority is taken to imply a normative judgment that such a claim is also 'natural'. In the process, the deep and immemorial contradictions between the claims of nature and tradition and religion disappear. To believe in one is necessarily to become committed to all.
Lawrence faced a very modern predicament. He found himself crippled by the sterility of modern life and institutional mechanisms on the one hand and unsatisfied by the appeal of the New Romantics to an unfettered and fantastic unity on the other. Against the facile complacency of the present and likewise against the obfuscatory romantic promise of 'and', Lawrence says 'but'. It is his anti-philosophy.
This repudiation is certainly apparent in Kangaroo, although admittedly the situation is less clear in his next novel, The Plumed Serpent, from which all traces of irony and humour have been ruthlessly expunged. But – we must also ask how Lawrence attempts to move beyond a simple negativity, a pox on both your houses. In what way does he attempt to find 'something new and true to live by' to recompense his 'deep discomfiture, his lack of true satisfaction'?8 Within Lawrence's anti-politics, behind his buts and his nays, it is possible to glimpse a theory of justice in law which represents neither a return to a past nor a mere acceptance of the present.
How might his insights help us with the problem of justice and the rule of law? The key lies in his adoption of the idea of 'polarity', through which he defended a vision of human experience maintained and nurtured by contradiction. Lawrence rejected the synthetic urge of the romantics, the dialectic dream of progress and inclusion. He believed that contradictions and oppositions – both within ourselves and in our societies – were the wellspring of understanding and creativity; and he believed, as opposed to the model of the dialectic, that those conflicts could not be combined in a new and greater harmony. Conflict for Lawrence was productive but interminable. In the sections that follow, I first elaborate on the concept of polarity in Lawrence and show the importance of sustained tension and contradiction in his work. I then show how Lawrence was far from alone in these thoughts. In many of his contemporaries, we see broadly similar attempts to turn the reality of conflict and disunity, fragmentation and subjectivity – in other words the very critique of modernity itself – into a productive rather than a destructive feature of human and political life. In the last section, I turn from the past to the (almost) present and from literature to (almost) law. Deconstruction is polarity's child. Both demonstrate that ineradicable contradictions lie at the heart of our thinking, including our thinking about law and justice. It is this contradiction, this paradox and tension, that makes legal judgment so hard.
With polarity in mind, we can begin to see more clearly what sets it apart from positivism on the one hand and from transcendental or romantic philosophies of justice on the other (and these are surely the two poles of the current debate in legal theory). Polarity helps us perceive and deconstruction helps us explain the outlines of a third approach, in which the contradictions and tensions inherent in the moment of judging are neither a problem to be solved nor an obstacle to be overcome. They are instead a necessary and valuable feature of legal discourse. That is Lawrence's modernist legacy.