Low-Wage Migrants in North-Western Beijing: The Precarious Tenancy and Floating Life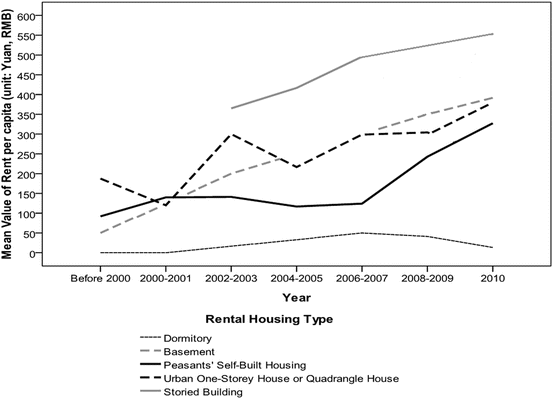 (1)
College of Resource Environment and Tourism, Capital Normal University, Beijing, China
Abstract
This chapter covers the housing survey of the low-wage migrant tenants, who have been viewed as hikers or sojourners in the urbanization and growth process. It begins with a review of the
hukou
policy, explaining how the
hukou
system has functioned as a selective entry mechanism for migrant workers into the host cities. A housing survey was conducted from February to April 2011 in Beijing's Great Zhongguancun Area, which reflects the effects of a new wave of city-branding movements (including plans for a world-class IT centre) and tightening of residency controls since the late 2000s. The survey examines the migrants' housing and re-housing experiences in north-western Beijing and their adaptive response to the demolition of illegal rented housing. Results have indicated that the low-wage migrant tenants, who are 'transient residents' with few rights or protections, can be easily forced out of areas identified as prime sites for city-branding projects.
I need to thank the Wiley Publishing for granting permission to adopt materials in this chapter from the following source: John Wiley & Sons Ltd., for tables, figures and related text in Ran Liu, Tai-Chee Wong and Shenghe Liu (2013) Low-wage migrants in northwestern Beijing, China: The hikers in the urbanisation and growth process.
Asia Pacific Viewpoint
54(3), pp. 352–371.