Lessons from Adaptive Management: Obstacles and Outcomes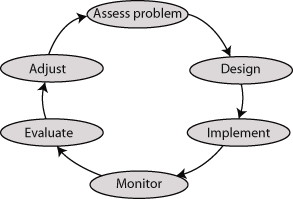 Fig. 3.1
Conceptual model of adaptive environmental assessment and management, indicating the integration of processes that assess, propose, test and evaluate hypotheses of ecosystem dynamics and policy implementation (Holling
1981
)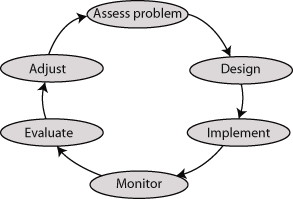 Fig. 3.2
U.S. Department of Interior diagram showing steps in the adaptive management process (Williams et al.
2009
)
Interestingly, there is no distinct separate step in either model for the extensive traditional science inquiry process prior to implementation of an action. That is, neither of the conceptual models depicts science as a process that is distinct (as an identifiable item or bubble) and unto itself. Elements of scientific processes are ever present, i.e., hypothesis formulation, simulation experiments, monitoring , modeling, etc. However, they are cast into the process of adaptive management policy experimentation . This is why many authors state that adaptive management blurs the distinction between science and management (Holling
1978
, Walters
1986
, Lee
1993
, Gunderson and Pritchard
2002
, Williams
2009
). This relates to the principle in an adaptive management framework that there is no clear separation of science and management activities, and indeed they are both part of a more holistic model of management. Both diagrams emphasize the role of monitoring as a critical step in adaptive management. In the adaptive assessment phase of the process, one of the key outcomes is identification of critical ecosystem variables to monitor. Monitoring should evaluate the outcomes of management interventions, and as such is a critical part of adaptive management (Walters
1997
). While monitoring is done for many reasons, it is in the context of adaptive management that monitoring helps to build understanding and provides the basis for learning.
Adaptive Assessment and Creative Syntheses
A key step in the assessment process is to determine the credibility of models. The computer models are viewed as hypotheses, and as such cannot be validated, only invalidated in the Popperian view of science. The models are caricatures of reality, only including what is essential. Therefore what is important is model credibility, not validity. It is only after resisting attempts at invalidation that a model becomes credible. One way of attempting invalidation is to compare the model output with historical data (verified data, not interpreted). Another is that correlation between the model and historical data does not imply causation. Other means of invalidation include trial and error approaches that compare model predictions with what happens in the real world, natural trials where model output can be compared to natural experiments, and comparing the behavior of alternative models. Once the models (or sets of models) have resisted invalidation, they can be used to evaluate alternative polices.
Adaptive Management: Learning Through Doing
The essence of adaptive management is the development of actions that are ­designed as much for learning as to meet other social objectives. The design of adaptive experiments or treatments is one of the outcomes of adaptive assessments (Walters
1986
). The implementation of those experimental or treatment designs has been problematic, and can be stymied because of a number of reasons. Among the reasons include inability to control key variables at appropriate scales, unwillingness to risk the results of outcomes, costs of experiments and inability to monitor key resource responses, and lack of leadership (Walters
1997
, Gunderson
1999
).
One critical obstacle to adaptive management is the unwillingness to risk or tolerate failed experiments. Volkman and McConnaha (
1993