Getting More Traffic to Your Website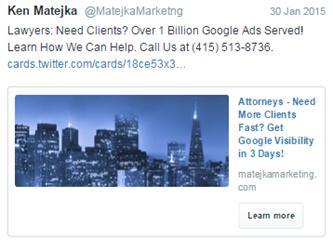 "Google Remarketing" is Google's name for cookie-based advertising. The idea is that when people come to your website, we expect them to make contact with you between 10% and 15% of the time. What that means is that 85% to 90% of the people who come to your website do not make contact with you on their first visit.
Through Google Remarketing, we plant a cookie on every visitor to your website, whether they make contact with you or not.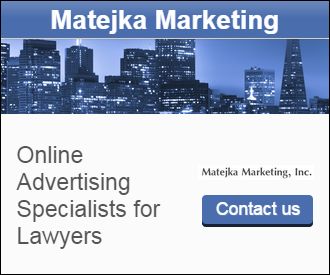 Then every time Google detects that cookie on someone's browser when that person is visiting various websites on the web, Google shows one of your ads to them. This can be a graphical banner ad, a text ad, or a mix of both. Your banners could vary in over a dozen dimensions to fit the requirements of the particular website. For example, Google may display one of your small banners across the bottom of a YouTube video, or Google may display a larger square banner on Yelp.[15]
Besides Yelp and YouTube, Google partners with thousands of other websites, many of which are among the most heavily trafficked websites on the web, such as the New York Times, the Los Angelos Times, and Pandora. Soon users get the impression that you've got the biggest advertising budget in the world because they can't get away from your ads.
People browsing the web with your cookie in tow will see your ads frequently and eventually may click on one of them. Sometimes on their second visit they will choose to make contact with you although they didn't the first time.
After you have been running your remarketing ads for a while, Google will have gathered enough information about your ideal visitors and will make available a target group known as "Similar to" your remarketing list. This will give you the opportunity to show ads to people who have never been to your website before but have cookies that are similar to yours, quite possibly the cookie of a competing law firm in your community.
It's inexpensive too. The clicks are often under one dollar, which is a steal by Google advertising standards.
A recent unfortunate development is that Google is disabling this type of marketing for certain types of advertisers that sell services or products that are sensitive in nature. The application of this new policy is scattershot and has only affected two of my firm's clients so far, both of whom are medical malpractice law firms. My policy representative at Google explains that it was because of the word "medical" on their websites—NOT in the advertising.
As of this writing, Google's execution of the new policy is somewhat arbitrary or random, and my firm still has several other malpractice remarketing campaigns running. We'll see how long it lasts and whether Google will extend this policy toward other types of law that may be perceived as "sensitive" like criminal defense or divorce.
Search engine optimization (SEO) refers to the practice of modifying your website and modifying other sites elsewhere on the Web in an effort to get the search engines to perceive your website as relevant for certain search terms. If your website is perceived by a search engine as highly relevant for a specific search term, then your website will rank higher in the search engine's index. The higher your website ranks in the search engine's index, the more likely the search engine user, who is actively searching for legal help, will find your website.
Because of Google's market dominance, first page visibility in Google is mission critical for law firm online lead generation. Furthermore, the vast majority of Google users click on one of the first four results in Google's search results, so ideally you need your website to place in the first half of Google's first page.[16]
The SEO process can basically be described as consisting of three parts. First is the research stage where you find phrases that are important and targetable. The second part of the process, called "on-page SEO," refers to things that you do to your actual website that make it easy for Google to index and understand. As part of this process, you'll emphasize certain phrases from step one of the SEO process so that Google perceives you as especially relevant for these searches. The third part of the process, called "off-page SEO," refers generally to the practice of accumulating links to your site from other websites.
The research stage of SEO determines what phrases you are going to target in your SEO efforts. These phrases should meet four criteria: (1) have high enough search volume to make the effort worth the time and expense, (2) be critically important to your law practice, (3) be phrases for which your law firm's website is not currently ranking very well in the index, and (4) offer room on the first page of Google's search results for your website.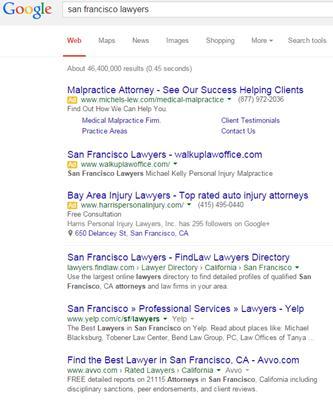 This fourth consideration in selecting your phrases requires performing searches for those phrases to see who is currently occupying the top spots in Google's search results. If the first page is dominated by major directories and networks, it is not likely that you will get your website to the first page regardless of how much work is put into the process. However, if there are one or more websites on the first page of Google's search results that do not appear to belong there, a competent SEO provider could possibly nudge them off Google's search results page and put your website up there instead.
When performing on-page SEO, you need to modify elements known to be important to Google so that Google can understand and index every page on your website. Title tags are considered the most important element for Google when it evaluates the content of a particular page on your site. Other factors include headers within your content, bolded words in your content, links between your pages, and alt text for your images.
Through the creation of more specific practice area content and blogging on topics of interest to your ideal client types, your law firm will be established as authoritative to both Google and your website visitors.
Google strongly favors content creation and will favor your website in its search results, serving up links to pages on your website that it finds most relevant to the user's search. By encountering content on your website that is extremely specific to the user's actual legal issues, the legal consumer is more likely to feel that they've found the expert they've been looking for.
It has been reported that Google considers over 200 different variables about your website when determining where it will place the site in its index. Many of these variables are unknown to all but a few select scientists at Google, but other variables are well known to SEO professionals to have a significant positive or negative effect on your website's placement in Google's index.
Off-page SEO is the third stage of the SEO process, coming after research and on-page SEO, and refers to the accumulation of links from other websites to your website so that Google perceives your website as an important source of information on the web. To grossly oversimplify Google's algorithm, the more websites that link to your website, the more important Google perceives your site.
There are different ways to get other websites to link to yours. The most common ways are through directory listings and press release websites. There are many directories on the web where you can list your law firm website free of charge. In addition, writing articles about your law firm and practice areas, putting links in the articles back to your website, and publishing them to press release websites (many of which are free) can result in a large number of valuable links. Other sources of links to your website are social media websites and legal blogs.
Doing your due diligence if you need to outsource SEO
SEO is very difficult, time-consuming, and ever-changing and requires a certain personality type to do it well for the many months that it takes to get results. You are strongly encouraged to outsource SEO to a competent provider.
When you first start talking to an SEO provider, they may start talking about getting your website to rank high in Google's search results. The important question, however, is for what searches your website will rank high. Anyone can get your website to rank high for the name of your law firm but can they get your website to rank high for "malpractice lawyers" or "divorce attorneys"?
Ask them about their techniques and compare them to what I write here in this chapter. Get references from the SEO provider (especially law-related references) and ask them to provide a list of phrases and websites that they have successfully gotten to the first page of Google's search results. With this list of phrases, perform the searches yourself to see how they did.
Long-tail searches[17]
Some SEO providers will steer you towards the selection of search phrases that are seldom used in Google—after all, it's easier to get you to Google's first page if there's no competition for rankings. You'll want to steer them away from "long-tail searches" because those are NOT the phrases your SEO professional should be targeting. You will hear from them that Google favors the long-tail search, and that may be true, but there are going to be very few of such searches, thus resulting in very little traffic.