From Madwoman to Historian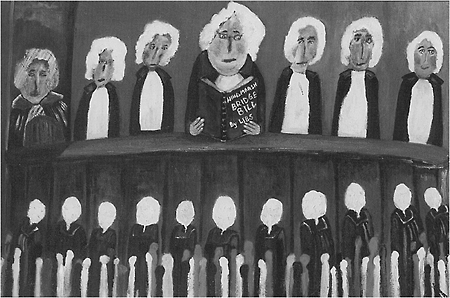 6
From Madwoman to Historian
May 1994
It was at home at Baroota in early 1994 that I first heard about the proposed bridge to Kumarangk. One morning, all of a sudden I woke up and sat right up in bed. I had a dream where I saw my Dad telling me I had to do something, but I didn't know what it was. We got up and Syd put the TV on. There it was on the news. They were going to build a bridge to Hindmarsh Island. They can't do that!
I couldn't see why they'd need a bridge. My mind went back to my childhood when we spent holidays at Kumarangk. We used to walk across to the island from Mark's Point. Mark's Point was named after Mark Wilson, because he was a thampamaldi, the one that has to do the tribal punishment on the people who done wrong. I remembered camping at Kumarangk next to Mark's brother Dan and his wife, Rebecca Wilson. It was a big happy family, and in the evening us kids would listen to the old ladies singing corroboree songs led by Granny Pinkie Mack. I took this upbringing for granted, and now it felt like it was all being threatened. All this was going through my mind — why did they need a bridge?
I rang Tom Trevorrow [chair of the Ngarrindjeri Lands and Progress Association] and he told me what he knew about it and that there was going to be a meeting of Ngarrindjeri people over Kumarangk. I told him I had information about knowledge sacred to women and I wanted to be part of any meeting.
I thought they must be planning to build the bridge from Mark's Point, so when Tom told me they were planning to build it from Goolwa to Kumarangk I started cursing [Doreen Kartinyeri's great-great-grandmother Malpurini is thought to have been buried opposite Goolwa]. I knew there were sacred sites all around Kumarangk every five or six kilometres. And then there's the stories about Kumarangk, the water all round it and the mainland. I asked Tom to tell me all about it. He told me the developers Tom and Wendy Chapman, who had a marina on the island, were going to build the bridge together with the State Government. Tom didn't know any more, so he got Victor Wilson to ring me.
Victor and I was yarning about what he remembered his father telling him about Kumarangk, and then he asked me if I knew any history about it. I said yeah and he wanted to know what it was. I told him about the sites in the area and the families that come from there and that's all. I told him they couldn't build a bridge there because we had too many people buried there and he knew this much because he said the older ones had told him that. But he was confused because he could sense I was holding something back. He said, 'If you know anything traditional way about the lifestyle of the people you might need to tell us'. That's when I told him I couldn't speak to him about it because he was a man.
Well, that triggered everything off. They wouldn't leave me alone after that. They got Aunty Maggie Jacobs to ring me, and that's when Aunty Maggie and I realised we had some of the same knowledge about Kumarangk and the Murray Mouth. Likewise with Sheila Goldsmith. Then Victor asked if he could come over and pick me up to take me down to the Kurangk, because they'd organised a Ngarrindjeri meeting. So I went with Victor to the meeting at the Pines [dormitory-style accommodation] and the Mouth House [on Kumarangk at the mouth of the Murray, owned by Anne Lucas].
1975
I couldn't believe a perfectly sane person like me should have to spend six weeks in a mental institution. It's a wonder it didn't send me crazy! Bert Clark was working with the Aboriginal Health Agency in Adelaide and he took me in to Hillcrest. I don't know why they didn't give me a female Aboriginal social worker, when Lowitja O'Donoghue and Ruby Hammond were available, but Bertie was kind and arrangements were made to foster out my children for a while with their aunties and uncles.
There were about eight patients in the ward and they had me in the middle bed. I asked if I could go into a private ward or at least to the end of the room so I wouldn't be surrounded by them. There was a woman who cradled a bundle in her arms. I thought she had a baby, but when I looked closer I saw she only had a doll. Then there was a woman who thought she was a big opera singer and she'd be singing scales all the time. She would just stand tall — no words — just warbling, and she got on everyone's nerves.
The worst of it was having to go to group therapy. You had to sit down and talk about your problems and how you're feeling. I didn't think that it was anybody else's business. I was the only Aboriginal person there, and the others were uninhibited because of their mental illness and not afraid to be as racist as they liked towards me. At one of these sessions I lost it and they ended up putting me in a straitjacket. But it was all them whitefellas that were mental cases, not me.
Eventually I decided I'd play the game at group therapy, so I told them how I felt. I said, 'If I stay in here any longer, they're going to put me into a cell. I can't survive with all you fellas around me like this. You fellas are like you're letting it get the best of you'. I was lecturing to the patients and telling them just what I thought. Well the male nurse came in and ran me out of the room. He said, 'How dare you speak to those people like that. They've got a sickness'. So I said, 'Well what the fucking hell am I doing here? There's nothing wrong with my mind; I just got sick of taking punches from my husband and I hit him back'. You see, I did feel sorry for those people, but I just couldn't hack it.
There was one high point while I was in Hillcrest. Snacka was working as a strapper for Bart Cummings. It was early November and the Melbourne Cup was coming up, and Snacka was strapping a horse called Think Big. I was so excited about it I asked permission from the doctor to go to Victoria Park Race Course to watch the race being broadcast. They say the whole country stops still for the Melbourne Cup. Permission was granted, and I was given into the charge of Ally McNamara and Terry's niece Tumsie. We met up with lots of blackfellas there. Of course I backed Think Big and it won! I was over the moon with pride when I saw my son leading that horse. Well after the race Tumsie and I started banging into the drink, and although Ally McNamara took me back on time, I was drunk.
Well I got back to Hillcrest with a whole lot of banknotes wrapped up in my mundi [breast, in my bra]. Sixteen hundred dollars I won. I didn't put it in my purse because they'd search that to see if you were taking anything in. Because I was drunk they decided to put me under the shower, and when the nurse pulled off my clothes, out flew all this money.
They stopped me from going out after that. I never used to be a drinker in them days; even when the ban was lifted I never took it on. But I did drink that day, and who could blame me. My son strapped the winner of the biggest horse race in the country and afterwards I was going back to a psychiatric hospital.
I was so frustrated and angry. I refused to see any visitors because I didn't want anyone to see me in that place, and I played up in Hillcrest because I just wanted to get out of there. They were giving me medication to sedate me and I hated it, but they would stand over me until I had taken it. So one day I told the nurse I had to go to the toilet first, so she said she'd come back afterwards with the medication. I locked myself in the toilet and sat there for a long time just to spite them. The nurse started banging on the door saying, 'Mrs Wanganeen are you in there?' I said, 'No, I've just gone to the Regency Theatre and seen this movie, Gone With The Wind'.
I rang Bertie Clark so often about getting out that he started to avoid my calls, but eventually he felt sorry for me and told me he would do what he could to get me out. I asked him to get hold of Maude Tongerie because she was working in the same Department, but George and Maude [both Aboriginal social workers] were up in Oodnadatta at the time. They had been very supportive of me, because they saw me with black eyes and all beat up and knew what my situation was. They also knew that I was a good mother to all my children, so they did what they could. Eventually, after six weeks had passed (and it seemed like forever), Bertie came and took me out. And when I went back to Terry it was entirely different. His whole attitude changed. He became the husband and father that he should have been, so it seems that that drastic measure actually had some effect.
Assimilation
These were the days of assimilation policies, and exemptions had been abolished in 1962. When the assimilation policies started it was just crazy. I thought, 'What the hell is going on?' There I was with six kids and then all of a sudden now we've got to get assimilated into the white community after they had lived all their lives in the mission environment. The government was doing surveys in places like Murray Bridge, Port Lincoln and Port Augusta — near a mission but not right next door — about bringing Aboriginal people into these towns. They went around to the white people and asked if they would object to Aboriginal people living next door to them. Then the government began buying homes in these towns for Aboriginal people, whereas one time if an Aboriginal man went off a mission to work, he'd be put out in the bush in a little railway siding or something to keep him away from the towns.
Quite a lot of people went into Adelaide, but a few went into small communities like Murray Bridge, Ceduna, and Port Pirie. I remember in 1961 my brother Oscar's daughter Eileen was born, and I went up to Port Pirie where they were living, to look after the children. Oscar was working at the railway siding just out from Pirie, and Ellen was one of the first Aboriginal women allowed to go to the Pirie Hospital. Previously they'd have to have their babies in their house.
The prejudice in Maitland was terrible, with bad newspaper reports about the conduct of the local Aboriginal children. We wanted something better for our children and a better education for them, and to do that we decided we needed to move. Terry didn't really want to go, but I thought leaving Point Pearce could be a fresh start for us. So Terry got a job with the Highways Department at Pooraka, and the family moved up to Kapunda to live.
After Terry
But our marriage was effectively over. We had been together twenty-one years, but too much had happened and I realised it couldn't be saved. We could not agree on anything; the friendship was gone. I also felt isolated. My asthmatic Dad was living with us and I couldn't leave him on his own. I didn't make many friends in Kapunda, the kids had a bit of a walk to school, and Terry started work too early in the morning to drive them. I've never, ever driven a car since I ran over Robin in my backyard. He was about seven when I reversed out and hit him. Fortunately he was only bruised a little bit but that put the wind up me. Then Kandy got sick, and we decided living out in the community without our support networks was too hard. So we moved back to Point Pearce. But nothing had changed in the relationship between Terry and me, so I decided to leave.
I moved to Adelaide to a house in First Avenue, Wingfield. The three biggest children, who had started work, stayed with Terry, and I had my youngest five living with me. I was still fostering Kenny and Trevor Weetra and Wendy Wanganeen. Kenny and Trevor didn't want to leave Point Pearce, so they stayed with another aunt, but Wendy came with me.
I also started taking in Point Pearce children who had run away from the mission and had committed low-level offences in Adelaide. As a result I needed a bigger house, so I moved to Cheltenham to cater for looking after another two boys, Trevor and Clifford Wanganeen. Then there was the time seven of the boys held up the pub at Port Victoria. I went to court to fight for them and Elaine Traeger, the social worker with Welfare, got them placed in my care. I needed a bigger house but they didn't get me one, so I did the shed up so they could sleep in there. I had them for seven or eight months until Welfare came and took them and got them jobs or sent them home.
I also had baby Rachael. Her father, Matthew Kartinyeri [Doreen Kartinyeri's uncle] was also boarding with me. When the mother got out of hospital she went out drinking and left her baby. I was furious to hear this, so I marched down to her house to find everything dirty and in a mess. So I took Rachael home. I had to buy her clothes and bottles and things because I hadn't had such a little one for a while, and I told them not to bother to come for her until they had cleaned up their act. I had that little girl for about seven months until her mother did clean up her act. Now Rachael's children come in and see their 'Nanna' in my house at Point Pearce.
My father worried that he was a burden on me, but I'd tell him how much his grannies loved having him around. Brenton would go to sleep with his little head on Dad's chest every night. Then one night Dad's lungs collapsed and he was rushed to the Queen Elizabeth Hospital. Before I left him in the hospital he told me to get Squashy to come home. I think Dad probably thought he was on his last legs and he wanted to see his son, who had been in Western Australia for many years. It took about three months to find him and for Squashy to raise the money to come back to Adelaide. When he got back then my father sort of recovered, and Squashy thought it was all a set-up to get him home.
It wasn't until 1979 that Dad had another severe attack that was his last. He died in his bed because he couldn't manage to find his puffer, and when the ambulance came they found it wedged between his pillows. I think he died a very sad man; there was only me, Oscar, Connie and Doris left of his family. I don't think he ever really got over Mum's death. We had his funeral at Raukkan and buried him with our Mum. By this time Squashy's ban had been lifted, so he could attend his father's funeral.
It was while I was living at Cheltenham that I met Syd Chamberlain in 1978 at the Globe Hotel. That was the first pub to let the blackfellas in after the drinking ban was lifted, and we all used to meet up there. Donny and May Karpany took me down for a drink, and Syd was a good friend of my cousin, Cliffie Wilson. Syd moved in with me in October of that year when I had moved to Davoren Park. A Pitjantjatjara man with four children of his own — Kym, Wayne, Pam and Jenny — Syd and I have been together ever since. Syd worked as a station hand, and after we got together he'd go out to the different stations to work. He would stay away for a month at a time and he was driving very long distances. Sometimes the car would break down and this just wasn't the best situation. Then he secured a shearing job north of Port Lincoln, so we decided to buy a house at Cummins on the Eyre Peninsula. I loved it there. There was another two Aboriginal families living there, and they were working on the railways, even though that sort of work was dwindling off by then. When Syd wasn't shearing he worked for the local council. I looked after his kids and we grew to have a close loving relationship.
Syd and the kids and I liked to travel down to the Coorong from time to time for summer holidays. We really enjoyed ourselves on those trips. I showed them different places and told them where they could and couldn't go. We had our little tent up and just opened the back of the station wagon out and put the water bottle and a big bottle of cordial into a tuckerbox full of ice so the kids could have cool drinks. Sitting down there throwing the line out, memories would come. I'd just close my eyes and I could hear the birds and the bushes. Every time I heard the whistling sound of the wind through the reeds I would think about Aunty Rosie. She used to make that sound. So did other people back home at Raukkan. It was a beautiful time.
In the meantime Aunty Rosie was getting on in years. She was really active and then all of a sudden her health started to deteriorate. She was stopping with her granddaughter Peggy and her husband Robert Weetra, and every time she'd get sick, Peggy would take her to hospital. Then Dibby would ring and let me know, and Syd and I would go over to the Maitland Hospital to see her.
One particular time we were looking at old photos when I came across one of Aunty Rosie as a young girl with a handsome young man in World War One uniform. So when Syd and I went in to see Aunty Rosie at the hospital, I took the photo with me. I asked her who was in the photo and tears came to her eyes. She said, 'That's me with my brother Rufus'. She told me she had made the beautiful dress she was wearing especially for the occasion. Uncle Rufus was on one week embarkment leave before he was shipped out to the war. She said he was her baby brother and shouldn't have gone to war because he was too young. Her eldest brother Cyril also fought in that war, and both of them died.
Then she started telling me about the other men. I knew that my mother lost two brothers and my father lost a brother in the First World War, because every Anzac Day we'd have a service in the church and their photos would be put up and we would lay wreaths. Mum's uncle, Grandfather Gordon, was a returned soldier, and he used to come down to Adelaide for Anzac Day, and there have been photos of him in The Advertiser laying wreaths for his nephews at the War Memorial in Kintore Avenue.
My Grandmother Sally, who lost her eldest son, used to say, 'All they sent me was a letter'. Later on when I was researching in the archives for my book Ngarrindjeri Anzacs, I found that letter.
Aunty Rosie died in 1981 of old age. She was eighty-seven. We went up to Maitland Hospital to see her and she didn't want me to leave, but visiting hours were over and we wasn't allowed to stay. That night she passed away. When I got there next day all her grannies were there already and I was the last one to know. I think because she and I were so close they were frightened to tell me. That was another painful loss for me.
The beginnings of my formal genealogical work
Syd and I were living at Devon Park when one day Lewis O'Brien1 came out to see me. We got talking, and he was asking me about relationships and kinships to old people from Point Pearce. I knew all the connections to Raukkan people, and Lewis talked to me about the kinship between his wife and my now ex-husband Terry. Aunty Pauline was the daughter of Pappa Eddie's second wife, so it makes her a half-sister to Terry's mother. But Aboriginal people don't look at 'half' or 'step'. Everyone is taken into your family; it doesn't matter who they are.
Lewis knew how important it is for Aboriginal people to know their kinship. It is the basis of our identity, especially for the ones that were taken away and lost touch with their families. He also knew that I had been doing a lot of work putting genealogies on paper for Aboriginal people who asked for them. So Lewis organised a little room at the University of South Australia's David Unaipon School at Underdale, and I started recording genealogies. With the help of Peter Willis, my first project I called 'Finding my People'. Paul Hughes2 was teaching there and he and Lewis talked to Fay Gale3 about how to get funding for my work. At that time Fay was in the Geography Department of the University of Adelaide, but she had done a lot of work with Aboriginal people, including Aunty Olga Fudge, Aunty Gladdie Elphick and Aunty Laura Agius. These women were greatly admired in the community. So in 1979 Fay applied for a grant from the Australian Institute of Aboriginal Studies4 in Canberra. After looking into this it was decided that it would be best for me to fly to Canberra to talk to Dr Peter Ucko.
Now I've never been one for heights. I can't walk up or down stairs that aren't filled in, and you'll never ever get me into a lift. I'd certainly never been on a plane before and I didn't want to go on one now. But I knew I had to do it.
Dr Ucko asked me questions about Ngarrindjeri families from older generations than mine. And I was giving him the exact information to match the archives he had — who was related to who and who married who and from what family or what tribe did they come. I was able to answer all of his questions, so he said yes, we will fund you.
So I came back to Adelaide and moved into the Geography Department with Fay. The knowledge was there in my head. I just needed to put it on paper and I didn't know how to do that and I didn't know how to search the archives for other materials. Fay had Joy Wundersitz working for her, and she asked Joy and one of Fay's students, Jane Jacobs, to help me with research. They took me to State Records and taught me how to use archives. We went into the Protector's records, and I was introduced to the 'Letter Book'. That was one of the biggest books I'd ever seen in my life. Joy showed me how to search the index and I thought, 'Oh my God, how am I going to get through all this?' It just spun me out.
During this research I came across all sorts of interesting information, including the records of all the births, deaths and marriages on Raukkan. People were dying of all sorts of things in the old days. Pneumonia was a big one, because it used to be really cold in winter time and all they had was an open fire or an old wood stove. There were children dying in infancy from 'malnutrition'. If you look at the ration supplies the families were getting, you could see that there wasn't much to go around for many of the families. Then of course they would take the other children away if one died of malnutrition.
After a while I started to get used to it. By the time Jane and Joy finished with me they taught me where I could get almost anything from, and I really do appreciate the work that they did with me. We went into the police records of court trials and criminal convictions of Aboriginal people. Most of them were only minor offences under the Aborigines' Act, but people were recorded as criminals for things like being under the influence.
There I was going into work that white people had written on Aboriginal people. I saw my Aunty Martha's name — Martha Isabel Rankine — and we got copies of the letters that were actually written by the superintendent concerning my aunt. I was shocked. The superintendent accused her of horrible stuff. I thought, 'No, no. That can't be my Aunty; it must be someone else with the same name'. I couldn't believe that they was writing things like that about my lovely, kind, generous Aunty Martha. I was very, very upset. But I had to get used to it because I would read many more letters like this about lovely people I knew. Women were accused of having affairs, so they would be 'bound down to the mission' (not allowed out). Men got expelled off the mission for fighting the white officers, bringing alcohol into the mission and other offences. These letters were the official record of how Aboriginal people's lives and bodies were being controlled and it was a shock to be witness to them.