Designing Financing Mechanisms for Electricity from Renewable Energy Sources: The Role of the European Commission as an Agenda Shaper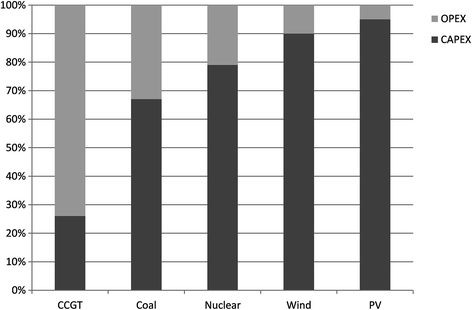 Fig. 6.1
Typical merit order of power plants
. Source
Transdisciplinary panel on energy change (TPEC), IASS Potsdam
When shaping national and European energy policies, the European Commission pursues the establishment of a text book model for liberalised electricity markets. Ultimately, all power producers should be able to refinance their investments via (spot) market sales of electricity and the achievable contribution margins (see Fig.
6.1
). Ideally, this market (i.e. the spot market) would be a level playing field for all power producers—with externalities (e.g. carbon emissions and other environmental damages) being internalised via the European Emissions Trading System.
As indicated above, this leads to high investment risk for all power producers and potentially to high costs of capital. In addition, two other factors have to be taken into account in the case of renewable energy sources. First, their relatively high shares of capital expenditures in relation to operation expenditures. Second, the effect of an increasing share of wind and solar photovoltaics (PV) on spot market prices. Power producers need to refinance their capital expenditures (CAPEX) and their operating expenditures (OPEX) via surplus revenues from market sales, the so-called contribution margin. The share of CAPEX and OPEX differs quite considerably from one technology to the next (see Fig.
6.2
).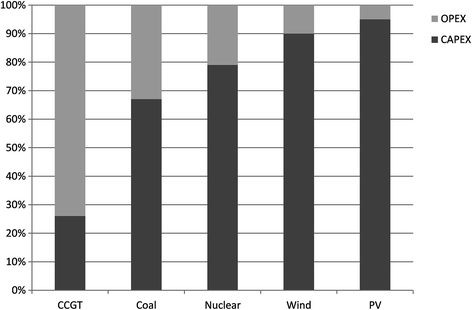 Fig. 6.2
Share of fixed versus variable costs of selected power generation technologies.
Source
Author based on (EIA
2013
)
The different share of CAPEX and OPEX leads to different levels of risks associated with investment in different power generation technologies—despite the fact that they are ideally competing on a "level playing field" in a common market. This is one of the aspects frequently overlooked in the debate on a level playing field. By definition, technologies with lower levels of capital cost face lower risk because their investment risk is primarily related to the cost recovery for the fixed capital costs. In other words, short- and long-term price volatilities of the spot market are a bigger risk for wind and PV producers than for gas-fired power producers. To put it simply: an operator of a gas-fired power plant can still decide not to operate the plant if market prices are below the costs for fuel (and CO2). Therefore, refinancing power plant via spot market sales creates a bias towards technologies with a low share of capital costs (and a high share of fuel costs). However, most low-carbon technologies have a relatively high share of capital expenditures.
In addition, an increasing share of renewable energy sources with very low marginal costs reduces the spot market price. This so-called merit order effect was observed in many countries with a high share of wind and solar PV in the system (Sensfuß et al.
2007
; Sáenz de Miera et al.
2008
; Ray et al.
2010
). To put it in a nutshell, increasing shares of wind and solar PV on the market results in lower spot market prices and thus destroy the basis for refinancing themselves via spot market sales in the future.
6.2.2

Financing Mechanisms for Renewable Electricity in the European Union in the Context of Electricity Market Liberalisation

As indicated above, the European Commission is pursuing two partially conflicting objectives. On the one hand, it fosters the transformation of the European electricity sector and tries to enable investments in renewable energy sources and other low-carbon technologies. This requires investment security—especially because these low-carbon technologies are very capital intensive. On the other hand, the Commission wants to establish a common market, which is based on the concept of short-term trading on electricity spot markets. This creates a substantial amount of risk for power producers. In order to understand the ambiguous role of the European Commission as an agenda shaper for renewable electricity financing mechanisms, it is necessary to understand the debate of various financing mechanisms in the light of the ongoing electricity market liberalisation. How far are the different finance mechanisms able to allow for investment security and low capital costs? And how far are they compatible with the European target model for a liberalised market?

A number of different support instruments are applied in EU member states. Nonetheless, the debate within the EU context is primarily focused on Tradable Green Certificate instruments and feed-in tariffs. Recently, auctions have gained increasing importance in the European debate. Other support instruments, fiscal incentives, have played a minor role within the EU policy debate.
6.3

The Commission's Positions Regarding Financing Mechanisms

In this section, we will elaborate on the position of the European Commission regarding different financing mechanisms for renewable energy sources over time. We analyse the Commission's positions with regards to different legislative procedures and publications from 1995 to 2013. This includes White Papers, Green Papers, guidance papers and recommendations, best practise benchmark report, draft Directives and state-aid guidelines.
6.3.1

Early Commission Papers and the Directive 2001/77/EC
6.3.2

The Commission's Assessment Reports for Financing Mechanisms

Under Article 4 of the directive 2001/77/EC, the European Commission was expected to assess the experience gained from the application and coexistence of the different financing mechanisms and possibly make suggestions for a harmonised support mechanism based on their effectiveness, efficiency, simplicity and compatibility with the principles of the internal electricity market. Assessment reports were published in 2005 and 2008.

4

The 2005 assessment of financing instruments was first tabled in December 2005 (EU Commission

2005

). The report was compiled by DG TREN—the department of the European Commission responsible for energy matters. The report stated that in most countries the support level had been insufficient to attract investment in renewable electricity generation plants.