Compulsory Liability Rule and Liability Rule by Default Regimes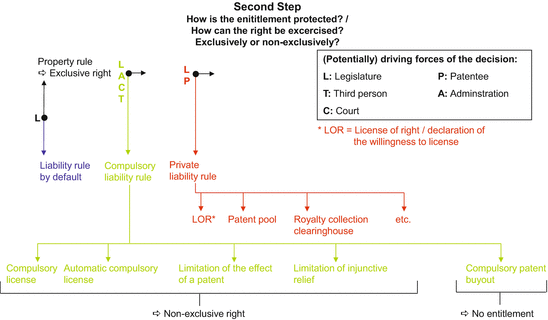 In Chap.
2
it was shown that there is a degree of inefficient overuse of property rules in the current German law system and that the same would apply to the future system under the regulation on the European Patent with Unitary Effect. Considerations regarding constraints such as distributional preferences and higher-ranking law have shown that such inefficient use is also not necessary. The analysis in Chap.
3
suggests that current private liability rules result in a reduction of the overuse of property rules. Although a more intensive use of private liability rules seems possible and should be encouraged, this is not a solution to all the problems raised above because patentees will switch to a liability rule if they profit from it and will not take into account what would be better for society. Therefore, in some cases, compulsory liability rules and liability rules by default, which need to be implemented by the legislature, may be necessary to come closer to striking an optimal balance between exclusivity and non-exclusivity with regard to economic efficiency. As already mentioned, the current compulsory liability rule mechanisms in the German patent law system, including those derived from antitrust law, are almost never used and so far have not led in a single case to the replacement of a property rule by a liability rule; liability rule by default mechanisms essentially do not exist. The questions that can be raised are, therefore, whether courts should make more intensive use of existing legal provisions—meaning especially whether a different interpretation of the existing statutes would be possible—or if the statutes should be amended.
Therefore, as a first step, the current legal situation is analysed (Sect. A.); this analysis forms the basis for deriving both general suggestions and, to some extent, suggestions for the improvement of concrete systems. Different mechanisms that are currently available are then evaluated. Whereas private liability rules can exist cumulatively, some compulsory liability rule mechanisms may only apply alternatively when addressing a concrete problem; therefore, it is important to choose the best mechanism (Sect. B.). Finally, perspectives are explained as to how the economic effects of the patent system can be improved by these mechanisms (Sect. C.). The chapter ends with a presentation of the results (Sect. D.).
A. Current Legal Situation and Its Disadvantages
It was stated above that German law contains compulsory liability rules that are currently of extremely low relevance because they are rarely applied and may only have, if at all, a psychological function.
1
In the following discussion, this work takes a closer look at the different existing mechanisms. The analysis will first answer the question of what purpose these mechanisms have, what problems they already address and, very importantly, why these systems currently have such low relevance. All answers are directly or indirectly connected to the law and, due to lack of evidence, have nothing to do with a general negative moral judgement vis-à-vis claimants applying for a compulsory licence
2
which, presumably, should be viewed as being beyond the law. Therefore, all questions can be answered in a joint analysis, that is, by distinguishing between mechanisms inside and outside patent law. Inside patent law means provisions that are a part of patent law statutes, which can be categorised according to those on compulsory licences in the public interest (Sect. 1.a.), those regarding dependent inventions (Sect. 1.b.) and limitations of the effect in the case of national emergency (Sect. 1.d.).
3
The first two share common rules which are also analysed (Sect. 1.c.). Provisions outside patent law, but with influence on patent law, are those in antitrust law. These provisions do not explicitly mention compulsory licences or other forms of compulsory liability rules, and their interpretation depends on the courts; the distinction will be between the European law (Sect. 2.a.) and the German law (Sect. 2.b.). Since the regulation on the European Patent with Unitary Effect does not contain any compulsory liability rule mechanisms so far, one cannot draw any specific conclusion regarding this proposal here.
1. Mechanisms Inside the Patent Law System
2. Antitrust Law
a. European Antitrust Law
The antitrust law jurisprudence of the ECJ has never judged the possible application of a compulsory liability rule regarding patent rights; neither have the German and European antitrust authorities nor the German courts ever decided such a case.
63
For a long period of time such a possibility in the area of IP law, especially as derived from Article 102 TFEU, was generally denied.
64
However, now several commentators argue that this should be possible and there are judgements by the ECJ and the European Court of First Instance (CFI), which is now called the European General Court, in the area of copyright law in which a compulsory liability rule was applied. The European Commission also supports this use of the compulsory liability rule according to,
inter alia
, a discussion paper on the application of [ex-]Article 82 of the Treaty to exclusionary abuses.
65
All supporters seem to share the opinion that more economic considerations must be taken into account when applying European antitrust law (the so-called "more economic approach").
66
Generally, Article 102 TFEU requires a dominant position within the internal market or in a substantial part of it, an abuse by one or more undertakings of that dominant position and an effect on the trade between member states; some examples are mentioned in which a misuse also has to be proven. The wording of this provision does not mention anything about compulsory licensing. Therefore, the main legal questions to be answered here are, under what circumstances a dominant position exists [Sect. (1)] and when an owner of an IP right can be viewed as abusing his dominant position by refusing to license IP rights (under reasonable conditions) and prohibiting their use [Sect. (2)], because foremost in such a constellation the application of a compulsory liability rule could be the right remedy to prevent anticompetitive behaviour.
67
After the analysis proposes answers to these questions based on the current jurisprudence, some important procedural rules are explained [Sect. (3)] and the whole situation is evaluated [Sect. (4)].
(1) Dominant Position
Generally, a dominant position in the market is a position of economic strength enjoyed by an undertaking, which enables it to prevent effective competition from being maintained in the relevant market by giving it the power to behave to an appreciable extent independently of its competitors, customers and ultimately its consumers.
68
Of importance in assessing the existence of a dominant position are two factors: determination of the relevant market and the relationship between the market shares of undertakings in the relevant market.
69
The relevant market combines the product and the geographic market. A relevant product market comprises all those products and/or services that are regarded as interchangeable or substitutable by the consumer by reason of the products' characteristics, their prices and their intended use. A relevant geographic market comprises the area in which the firms concerned are involved in the supply of products or services and in which the conditions of competition are sufficiently homogeneous.
70
The comparison of market shares is crucial for determining competitive strength both in general and with respect to the next largest competitor.
71
The importance of market share may depend on the specific market; but significantly high market shares are usually sufficient to prove the existence of a dominant position.
72
Although the relevant market is determined according to these general rulings, there are some peculiarities if an analysis also involves IP rights. At first, the following needs to be stated: regularly, a single IP right does not lead per se to a dominant position
73
because a legal monopoly is not equivalent to an economic monopoly; instead, frequently, a bundle of IP rights forming a technology is relevant. One may derive, for instance, from Article 1(1)(b) and (h) Regulation 772/2004/EC
74
that technologies consisting of,
inter alia
, patents, utility models, designs, topographies of semiconductor products, supplementary protection certificates and plant breeder's certificates have relevance in the field of European competition law.
75
Additionally, it is of fundamental importance that normally at least two markets must be taken into consideration if the first one usually has an influence on the second one. This is, on the one hand, the market for IP rights or technologies themselves (input market) and, on the other hand, the market for products and services in which the IP right is used (output market).
76
This differentiation can also be seen in Article 3(3) Regulation 772/2004/EC. Moreover, the type of subject matter protected by an IP right can influence the determination of the relevant market. The market for technologies and less artistic copyrights, such as software, is normally broader, meaning that there is often a higher degree of interchangeability and substitutability between the different forms of subject matter, which may be the case, for example, between variants of production processes.
77
Nevertheless, when artistic works or non-recurring information, such as information relating to programme listings of broadcasting companies,
78
are concerned, the market may be limited to exactly these works and information.
79
The situation can be similar with regard to trademarks and designs.
80
(2) Abuse of a Dominant Position
Identifying an abuse of a dominant position by means of a refusal to license (on reasonable conditions) is legally more complicated than determining a dominant position; especially the relationship between IP rights (currently mainly national) and European antitrust law poses several problems. According to the ECJ, EU law (as derived from Article 345 TFEU) should not affect the existence of national IP rights but could have an influence on the exercise of them.
81
Such influence can only be very limited because preventing third parties from manufacturing and selling or importing constitutes the very subject-matter of an exclusive right that may not be affected. This is particularly the case if the patent owner were obliged to grant a licence in return for reasonable remuneration; a refusal to grant such a licence cannot in itself constitute an abuse of a dominant position
82
which is also linked to the (negative) freedom of contract.
83
This should only be possible under exceptional circumstances
84
; in
RTE and ITP
(
Magill
) the ECJ defined four conditions that must be satisfied in order to affirm an abuse of a dominant position. The case concerned a situation in Ireland and Northern Ireland in which the company Magill TV Guide wanted to market a comprehensive weekly television guide, which at the time was not available because each television station claimed copyright protection for its own weekly programme listings and prevented their reproduction by third parties.
85
The European Commission found a breach of Article 102 TFEU and ordered that the TV stations had to supply third parties, on request and on a non-discriminatory basis, with their individual weekly programme listings and permit reproduction of those listings by such parties; if the TV stations chose to grant reproduction licences, any royalties requested should be reasonable.
86
The ECJ confirmed this view and based its analysis on the following four conditions which were also held to be fulfilled: "(1) the product protected by an IP right must be indispensable for the potential licensee to act on the secondary market, (2) the refusal to license is preventing the emergence of a new product for which there is a potential consumer demand, (3) it is unjustified and (4) it is such as to exclude any competition on a secondary market".
87
These criteria were affirmed in a later decision (
IMS
–
Health v. NDC
)
88
concerning the use of a brick structure developed by IMS to provide German regional sales data on pharmaceutical products. This brick structure, a database that may be protected by German copyright law, became the normal industry standard and IMS refused to license it to a competitor.
89
In another case that also concerns copyright law, the opinions of the Commission and the CFI diverged in the grounds but not in the result. The facts were the following: incompatibilities existed between Microsoft Windows and competitors' operating systems and servers. Microsoft, which also produces servers, denied the disclosure of certain communication protocols that would have made it possible to eliminate these incompatibilities. The protocols are protected by copyright law. The Commission, which argued interestingly that the criteria developed in
Magill
need not necessarily be applied because these criteria may not be suited to judging every single case, obliged Microsoft to disclose the information.
90
The CFI confirmed the result, but held that the criteria should be applied and were fulfilled.
91
It is also important to mention that Microsoft accepted the judgement by not appealing to the ECJ.
(3) Important Procedural Aspects
Regarding the procedures for reaching a decision about whether a compulsory liability rule derived from European competition law is applicable, one must especially note the following. Very importantly, there are two alternative proceedings. Either the European Commission or the national antitrust authorities—in Germany the German Federal Cartel Office (Bundeskartellamt)—orders the application of a compulsory liability rule or, alternatively, the potential licensee claims before a national court that the patent owner is not acting in accordance with antitrust law and applies for a compulsory licence.
With the first alternative, the Commission or the German Federal Cartel Office may decide to initiate proceedings of its own initiative or a third party may file a complaint to the Commission [Article 7(1) Council Regulation (EC) 1/2003
92
] or a request to the German Federal Cartel Office [Section 54(1) Act Against Restraints of Competition]; both are, however, only proposals for the authorities to act.
93
A subjective right to initiate formal proceedings does not exist. The German antitrust authorities and courts are also allowed to apply European antitrust law [Arts. 5–6 Council Regulation (EC) No. 1/2003]; Article 11(6) Council Regulation (EC) No. 1/2003 determines that initiation of proceedings by the Commission relieves the competition authorities of the member states of their competence. This alternative has the disadvantage that the authorities are not obliged to initiate formal proceedings but, if they do so, the potential licensee need not bring evidence because the authorities will investigate the situation on their own [Article 17 et seq. Council Regulation (EC) No. 1/2003]. However, in spite of this facilitation, proceedings could often be expensive for the potential licensee, especially involving attorney fees, because he may pursue his interests by trying to influence the authorities. It may frequently take some time to reach legal certainty, especially if one party appeals to the European courts.
The second alternative is a constellation in which contradictory proceedings take place starting before a national court, meaning that national civil procedural law applies. The plaintiff would have to apply for the grant of a compulsory licence which may either be based according to German law on a claim for damages, which would require default, or for the removal of an unlawful situation
94
in connection with European antitrust law [Section 33(1) Act Against Restraints of Competition]. The advantage of this alternative for the potential licensee is that the courts are obliged to decide the case, but proceedings are normally also very expensive involving high court and attorney fees and take some time until legal certainty is reached. Preliminary decisions on granting a compulsory licence are also very difficult to instigate, as explained with respect to Section 85 Patent Act, because very important interests of the licensee must be presented (Secs. 935 and 940 German Code of Civil Procedure).
(4) Evaluation of the Situation
Although the ECJ has apparently defined distinct criteria that make the interpretation of Article 102 TFEU easier, clarity only seems to exist with respect to determining whether there is a dominant position or not. Beyond that, the decisions of the courts have been criticised by several commentators and a number of issues are still unclear. The lack of predictability, on the one hand, involves the criteria laid down by the ECJ to questions regarding EU law and jurisprudence; on the other hand, it involves the possibility of invoking the jurisprudence in all areas of IP law, especially patent law.
b. German Antitrust Law
German jurisprudence with respect to liability rules regarding patents affected by antitrust law is also relatively new; until recently, i.e., before 2002, this matter was not discussed by the courts and so far very few decisions exist. As mentioned above, the courts have not dealt with direct grants, but defendants have been allowed to claim that a compulsory licence could have been granted to prevent an injunction being issued after the patent owner initiated infringement proceedings. The relevant German antitrust law provisions are Secs. 19–20 Act Against Restraints of Competition. According to Section 19, the abusive exploitation of a dominant position by one or several undertakings is prohibited (Subsection 1); also defined is when an undertaking is or is assumed to be dominant in a market (Subsections 2 and 3); in Subsection 4 some examples are mentioned in which a misuse should especially be affirmed.
114
Section 20(1) provides that dominant undertakings are not allowed to "directly or indirectly hinder in an unfair manner another undertaking in business activities which are usually open to similar undertakings, nor directly or indirectly treat it differently from similar undertakings without any objective justification".
115
In the following analysis, the German jurisprudence that refers foremost to Section 20 is explained [Sect. (1)] and then the situation is evaluated [Sect. (2)]. Regarding important procedural aspects, one can refer to the explanations made above concerning the European law
116
because the same is true here except that not the European but only the national authorities may act.
(1) The Jurisprudence
There are no differences in comparison with the European case law that are worth mentioning regarding determination of a dominant market position. More interesting is the question, under which conditions the existence of anticompetitive behaviour can be affirmed, because German jurisprudence has dealt with different constellations from the ECJ. Whereas, for several years, the topic was debated based on a few court decisions
117
—especially on a case that concerned limiting the amount of a claim for damages due to the fact that a compulsory licence could have been granted
118
—the situation with respect to limiting injunctive relief only recently became clearer in the
Orange
–
Book
–
Standard
decision of the Federal Supreme Court.
119
Before that decision, the Court had already explicitly affirmed that provisions on compulsory licences in the area of patent law were not conclusive, and that antitrust law was also relevant and could therefore affect the exclusivity of patents.
120
The
Orange
–
Book
–
Standard
decision concerned a constellation in which the claimant owned a patent for an invention essential to the production of CD-Rs and CD-RWs according to the so-called Orange-Book-Standard. The claimant argued that the defendants were infringing the patent and asked,
inter alia
, for an injunction. The defendants stated particularly that the claimant had a dominant position on the market and discriminated in the sense of Section 20(1) Act Against Restraints of Competition
121
by only allowing other undertakings and not the defendants to use the patented invention against remuneration.
122
Generally, the Supreme Court held that there may be cases in which a compulsory licence could be granted and, as a consequence, injunctive relief must be denied. The Court concluded that an undertaking misuses its dominant position by requesting an injunction if it refuses to grant a licence under non-discriminatory conditions without unfair hindrance.
123
But, very importantly, the following two additional conditions must be fulfilled: (1) The potential licensee must make an unconditional offer to conclude a licensing contract containing reasonable conditions. The patent owner is not obliged to accept an offer on condition that a court denies infringement of the patent. (2) The potential licensee must act in accordance with the proposed licensing contract if he already used the patented invention before the patentee accepted his offer. This means in particular that the potential licensee must either pay the proposed licensing fee to the patent owner or must provide security for it; the potential licensee is, however, also allowed to let the patent owner determine remuneration at his reasonably exercised discretion, which also means being in accordance with antitrust law.
124
In the concrete case, the Supreme Court denied an injunction because of the absence of the additional two conditions and, as a consequence, did not analyse whether the further conditions laid down in Section 20 Act Against Restraints of Competition were fulfilled. However, due to the court decision, it is now at least in practice beyond dispute that with respect to patents a property rule can be replaced by a liability rule derived from Section 20.
(2) Evaluation of the Situation
As with European antitrust law, the situation has apparently improved to the extent that the Supreme Court concretised the very general antitrust law provisions and confirmed the opinion that a compulsory licence can be derived from German antitrust law. Generally, it was positively remarked that the new jurisprudence may more reasonably balance the interests of the involved parties and the general public
125
because,
inter alia
, the patent owner can rely on being paid by the licensee. In addition, in the potential licensee's favour, the amount of a reasonable remuneration can be investigated by a court without the risk of an injunction being issued.
126
On the other hand, the debate showed that there are still several questions that remain unanswered and also new questions that lead to a significant degree of legal uncertainty. This uncertainty may be the main reason why the possibility of applying a liability rule based on German antitrust law should still be considered as being of little relevance. Moreover, competition law is applied in a very restrictive manner—arguably unnecessarily restrictive,
127
which may be the second main reason. Other factors may also strengthen these effects and result in enormous litigation risks; these are, again, the time and money involved in waiting for a court decision to be issued. More concretely, one could observe the following.
With respect to the question of legal uncertainty, one can distinguish between two questions: whether the Federal Supreme Court has defined clear criteria and whether a direct grant of a compulsory licence or an application in other constellations would therefore be possible. The first question has been debated by several commentators who especially criticise the two additional conditions explained above, which the Court has defined but which cannot be derived directly from the wording of any existing legal provision. With respect to a reasonable offer, the point in time when such an offer must be made and to what extent a court must investigate its reasonability is still not clear. It is beyond doubt that the potential licensee must make an offer before using the patented invention. This is, however, only possible if he knows or could have known about the patent situation. It is unclear how such knowledge should be determined exactly and, if this element is not fulfilled, how much time should elapse before he is obliged to make an offer.
128
Questionable with respect to the reasonability of an offer is whether a court should investigate to what extent that condition is fulfilled, or should only analyse whether the offer is evidently not reasonable.
129
Open questions also exist about the possibility of providing security, the correct doctrinal derivation of such a condition, the exact amount of security required, the way security should be provided
130
and how the patent owner obtains it.
131
Additionally, questions about the territorial limitation of the licence have arisen because it is common and reasonable for parties to conclude a licensing agreement that is not limited to one country and, therefore, not to the territory where the infringement was alleged.
132
Also questionable is whether a potential licensee who offers to conclude a licensing contract is allowed to claim non-infringement or nullity of the patent.
133
Moreover, it is also currently unclear at which point in time the potential licensee is obliged to fulfil his obligations to pay remuneration; this is especially financially risky for small undertakings that are short of funds.
134
More generally, it is unclear whether the application of the additional criteria was simply erroneous; one could argue that it was incorrect to apply German law, as the Supreme Court did, and not European antitrust law.
135
If European law had been applied, one could conclude from the jurisprudence of the ECJ, as explained above, that the potential licensee must be allowed to use the patented invention against reasonable remuneration without fulfilling any further conditions if the patentee is not acting in accordance with antitrust law.
136
The second question regarding legal uncertainty goes beyond the decision of the Supreme Court. It is unclear whether a direct grant of a compulsory licence based on German antitrust law would be possible, and also whether further cases in which a compulsory licence could be granted can be derived from German antitrust law. There are good reasons to assume this, but a court has not decided so far and clarification carries financial risks.
The current application of competition law is also very restrictive, especially due to the additional two criteria. Their application depends solely on the circumstance whether the defendant continued to use a patented invention and is faced with a (potential) injunction. If the defendant stopped use, he could have brought an action for damages against the plaintiff; to succeed in the action he only has to show that the plaintiff's general licensing terms and/or his refusal to modify them are abusive under relevant competition law provisions.
137
In either alternative the plaintiff does not act in accordance with competition law; the infringement of the patent alone is what leads to a shift in the burden of proof (the defendant has to show the conditions that the patentee has to accept in any event), and especially why patent law should prevail over competition law.
138
Moreover, the court valued the interests of the patent owner higher in controlling the use of his invention than the interest in innovative standardisation (including the risk of being inefficiently over-compensated due to,
inter alia
, network effects), which is undoubtedly an essential element of the system of competition because market actors profit from well-functioning standardisation, from its acceptance by industry, and from access to the use of standards.
139
3. Interim Results
This chapter aimed at showing why compulsory liability rules have almost no relevance in the field of German and European law. These results may be generalised such that if these conditions were present in other legislations, they would also have low relevance there. To clarify, it would be wrong to conclude that all these aspects need to be altered due to exclusivity being too dominant at present, because this could lead to a system that contains too many non-exclusive elements.
Regarding compulsory liability rule mechanisms inside the patent law system, one can conclude the following. German law provides for compulsory licensing in the public interest, with regard to dependent inventions and limitations to the effect of a patent in the interest of public welfare and national security. Several factors, which are admittedly based partly on assumptions and would require further empirical evidence, were identified as to why compulsory liability rules currently have very little relevance. On the one hand, there are legal reasons, which partly have a microeconomic dimension, namely the following:





The restrictive and unclear interpretation of the terms

public interest

[Section 24(1)(2) Patent Act] and

public welfare

(Section 13 Patent Act).






The restrictive and unclear wording of Section 24(2) Patent Act, in which important technical progress of considerable commercial significance and the existence of a formal patent is required.






The possibility of not being able to license know-how.






The time period during which an application for a compulsory licence can be filed [Section 24(6), first sentence, Patent Act].






Uncertainty about the amount of remuneration, high court and attorney fees, and that a court rather than an administrative body decides about the grant.






The difficulties in applying successfully for a provisional grant.
One consequence of this lack of clarity may be that potential licensees prefer challenging the validity of a patent. On the other hand, political and macroeconomic aspects should be relevant because the application of a liability rule—especially with regard to Section 13 Patent Act and, therefore, a constellation in which the state would be the driving force—may be considered as a negative signal to investors from both inside and outside Germany. Generally, economic considerations seem to be of minor importance in this area of law. In contrast to these considerations, the psychological effect on patent owners is mentioned; they are willing to conclude licensing agreements in order to prevent the application of compulsory liability rules and proceedings in general. With respect to the above-mentioned aspects, these effects may exist but should not be very strong.
With regard to antitrust law, a distinction exists between the jurisprudence in European law and German law, although both the European and the German statutes are similar and do not contain any explicit information about the application of compulsory liability rules. Economic considerations seem to be of more relevance in the area of antitrust law, in contrast to patent law. According to European case law, which refers to situations in which a patent owner who is dominant on the market generally refuses to license, the major point is that, with respect to Article 102 TFEU, abuse of a dominant position must be determined. This determination is currently carried out by analysing whether four criteria can be affirmed and predominantly concerns the situation on a secondary market. German case law concerns the situation in which a patent owner abuses a dominant position by refusing to grant a licence under non-discriminatory conditions and without unfair hindrance. The court determined with respect to Section 20 Act Against Restraints of Competition that injunctive relief is not available in the case of patent infringement if a compulsory licence could have been granted; the grant should be possible if the conditions laid down in this provision and two additional conditions explained above are fulfilled. The reasons that compulsory licensing derived from antitrust law (European as well as German) does not play a role, or at least currently only a minor role, may be the following. On the one hand, there is still a very high degree of legal uncertainty even though the very general antitrust law provisions have been concretised by the courts. On the other hand, the terms specified by the courts under which a compulsory licence can be granted are interpreted rather restrictively. Both drawbacks involve enormous litigation risks and, therefore, also financial risks, although antitrust authorities may issue decisions. Additionally, it often takes some time until a final decision is issued. All these factors may deter potential claimants from initiating proceedings and also prevent successful proceedings.
B. Different Mechanisms, Practical Relevance and Evaluation
Each mechanism, according to how it is defined below, can be distinguished from every other mechanism by at least one decisive difference that can have particular consequences legally and economically. This is especially true when the following aspects are taken into consideration: who the potential driving forces of the decision are, who is allowed to use the invention (besides the patentee), whether a significant degree of flexibility is provided, what the effect on the patent is, what the usual point in time of this effect is, what the usual method of determining the amount of remuneration is and in what area(s) of law the liability rule mechanisms are normally found. The following discussion provides examples of the patent systems and contexts in which these mechanisms are currently used, as well as showing the practical relevance of all these mechanisms.