Carbon Losses Due to Wood Harvesting and the Role of Wood Products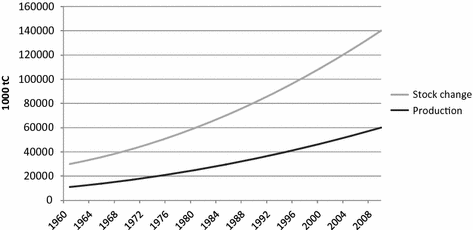 Fig. 7.1
Temporal trends of wood harvested from forests in Italy (
data source
ISTAT)
However, since resulting forest wood harvesting aggregated statistics apparently underestimate real wood production, the whole reporting system was frequently criticized in literature (Cutolo
2000
; Corona et al.
2004
). Forest owners may in fact communicate clearcuts smaller than the effective ones avoiding the cost of a formal harvesting project and simply cutting in a larger area. Just a few clearcuts are verified in the field by local authorities.
It is evident that since updated forest wood harvesting statistics are so important in supporting strategic forest planning actions, an accurate, cheap and feasible monitoring system should be implemented. The integrated use of remote sensing technologies should be considered. The results recently published in Chirici et al. (
2011
) are here synthesized.
7.2.2

Remote Sensing for Harvesting Monitoring

The comparison between the in-field validated satellite-based map with over 9,500 clearcuts and aggregated official statistics demonstrated a significant underestimation by the latter (65 % of the total mapped clearcut area).
7.2.3

Carbon Loss Due to Harvesting

According to Papale et al. (

2005

), the losses of carbon (C

wood utilization

) from forests due to forest harvesting can be assessed as follows:

(7.1)
where
According to ISTAT, 54 % of annual harvested volume is represented by coppice forests, corresponding to 4.26 × 106 m3. Thus wood removals through clear cuts in Italy officially represent an annual loss of carbon of about 6 Mt CO2.
As a conclusion, on the basis of the underestimation of official statistics on clear cuts harvesting presented above, it can be hypothesized an underestimation on carbon losses at national level of about 2 Mt CO2.
7.3

Wood Products

The highly variable duration of carbon stock in wood products depends on their composition, their level of production-consumption and their average life cycle, an extremely variable parameter (from few months for newsprint to many decades for laminated beam).