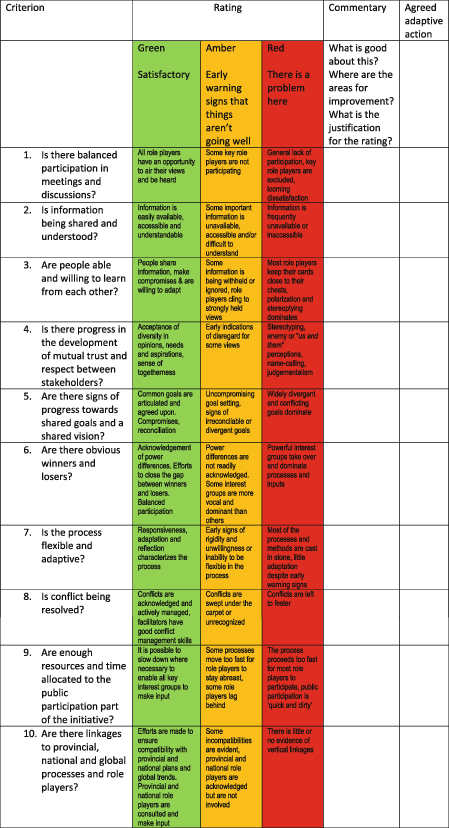 Adaptive management
Co-management
Adaptive co-management
Concept
Learning by doing process
Joint or shared decision making, conflict resolution or management process
Joint management through learning by doing collaboratively
Designed for…
Designed to continually improve management policies and practices by learning from the outcomes of previously employed policies and practices
Designed as an alternative approach from the top down to a consensus based and decentralized approach
Designed to enhance resilience and manage complex systems which transcend multiple levels and scales
Emphasis on…
Learning and experimentation through implementing monitoring and adjusting in real space and time
Sharing of rights, responsibilities and power across a range of relevant stakeholders
Joint management and learning by doing, (local and scientific knowledge), sharing of rights, responsibilities and power by relevant stakeholders at multiple scales
Linkages
Science and management for learning by doing
Vertical institutional linkages for the inclusion of diverse knowledge types and equity in resource sharing and decision making
Horizontal and vertical for joint learning by doing
Temporal scope
Medium to long term, multiple cycles of learning and adapting
Short to medium term, creates snapshots
Medium to long term, multiple cycles of learning and adapting
Organizational level
Managers needs and relationships
Bridging between local and government levels
Multi-level, with self-organized networks
Capacity building focus
Resource managers and decision makers
Community and resource users
All stakeholders
Core Elements
The adaptive co-management process has four cornerstones:
Adaptive co-management thus refers to an ongoing process that allows stakeholders to share responsibility within a system where they can explore their objectives, find common ground, learn from their institutions and practices, and adapt and modify them for subsequent cycles . While, as with adaptive management, the focus remains learning by doing, it takes into account a diversity of knowledge systems. This allows for the inclusion of informal, local and traditional knowledge, formal scientific knowledge and the sharing of rights, responsibilities and power among the diverse range of relevant stakeholders (Ruitenbeek and Cartier
2001
). These interactions may occur at multiple levels, e.g., at the local community, provincial, national and even international levels. Stakeholders could include resource users, local stewardship associations, government agencies, and non-governmental organizations (NGOs) (Olsson et al.
2004a
). The degree of collaboration can occur on a continuum of involvement which can also vary during different phases of the adaptive management cycle (Ruitenbeek and Cartier
2001
).
Adaptive co-management is in essence an approach to ecosystem governance , as a partnership between the state or regulating authority, scientific and media institutions , resource users and "other civil society groups" (Adger
2005
). Adaptive governance principles (Clark and Clarke
2011
) include (1) the degree of cross-scale interaction between project participants and other governance levels; (2) the "learning and adaptation processes" that have occurred; (3) the extent of shared understandings about the goals and vision for the initiative. The result is integration of human and social "capitals" through cross-scale interactions which provide learning opportunities, with intermediaries and "bridging organizations" playing key roles. This leads to the emergence of a common vision and understanding. Clark and Clarke (
2011
) used these principles to assess good practices in adaptive governance in five case studies in English national parks. They found a positive correlation between indicators of local sustainability , and the application of adaptive governance principles. They conclude that national park authorities are important bridging organizations that promote sustainability through capacity development and trust building.
Despite being very well defined and its core elements explicit, adaptive co-management is sometimes misused or incorrectly used. In some papers a project or case study called adaptive management often contains a collaborative or community engagement component and should actually be called adaptive co-management . The "co" in the term is also interchangeably used as communal or collaborative, implying varied partnerships between public and private actors (Carlsson and Berkes
2005
). The most widely used definition of adaptive co-management is: a process by which institutional arrangements and ecological knowledge are tested and revised in a dynamic, ongoing, self-organized process of learning by doing (Folke et al.
2002
, Armitage et al.
2007
).
Where is Adaptive Co-management Applicable?
Adaptive co-management is not the answer to all management challenges (Plummer
2009
), but has been useful in dealing with complexity (Carlsson and Berkes
2005
), when decentralization of management is desirable (Bulkeley and Betsill
2005
) or there is a need to legitimize decision making (Carlsson and Berkes
2005
), in conflict resolution (Pomeroy and Berkes
1997
, Singleton
1998
), and problem solving (Carlsson and Berkes
2005
).
Dealing with Complexity
Adaptive co-management is useful in dealing with complex multi- scale and level systems and with problems where a need to link a diversity of types and levels of organizations is required through partnerships (Carlsson and Berkes
2005
, Armitage et al.
2009
). This may be due to conflict, or a high level of interdependence (Ansell and Gash
2007
), risk sharing, or exchange of resources (Carlsson and Berkes
2005
) e.g., herbicide being provided by a conservation authority to private landowners to clear alien invasive species on private property, or provision of free advice and assistance with infrastructure by conservation bodies to communities involved in integrated conservation and development projects (Garnett et al.
2007
). No single agency or local user group governing the system alone will work (Carlsson and Berkes
2005
, Berkes
2009
); the problem requires ongoing committed cooperation and collaboration by a range of stakeholders, which is where adaptive co-management comes into its own.
Decentralization of Management
Adaptive co-management has also commonly been associated with the decentralization of natural resource management of a commons, landscape or small scale resource (e.g., urban ecosystems, Bulkeley and Betsill
2005
) where local level knowledge is required; or when distinct rights to resources are shared. Decentralization should be to an appropriate level, congruent with the scale of the ecosystem being managed (Bohensky and Lynam
2005
). In the same way as it does not make sense to devolve the authority to manage a regional catchment to a local community, it also would not be appropriate for central government to take sole responsibility for the management of a locally used stream, wetland or community forest (Murphree
2004
).
Legitimization of Decision Making
Government agencies can also use adaptive co-management to legitimize decision making, to delegate functions too costly to manage, or to allocate tasks where divisions of labor across levels and capacities can improve efficiency, for example when a group of local producers gains access to new markets through increasing economies of scale (Carlsson and Berkes
2005
).
Conflict Resolution and Problem Solving
Conflict can be a barrier to collaboration but can also be the inspiration for collaboration when stakeholders realize that the issue at hand cannot be solved without working together. Adaptive co-management can be applied as a conflict resolution mechanism between stakeholders and government (Pomeroy and Berkes
1997
, Singleton
1998
, Armitage et al.
2009
) or where a policy deadlock occurs (Ansel and Gash
2007
) and even evolve into a problem solving mechanism with time. The process can include negotiation and bargaining where the rights and responsibilities of the relevant stakeholders can become explicit, formalized and entrenched, potentially resolving conflicts over resources (Carlsson and Berkes
2005
).
Conceptual Frameworks